In this article we are going read about  newborn photography and dog, let's review some very important information in the beggining.
Here is the question that most clients ask. Can we bring our dog for a newborn photography session? Is it safe? What should we know?
Before making the final decision please familiarize yourself with the terms and conditions to make it a pleasant experience for yourself and a safe session for your baby and your dog:
Dogs are welcomed as long as they are well behaved and stay on a leash during the whole session.
Once it comes to his/her turn we will unleash and include in the picture.
Please kindly note since the session is long we recommend someone keeps an eye on them in the reception area so he/she won't get lonely.
Or if there is a need to take them for a walk. 
We have a nice reception area where they can hang out and our staff also visit them every few minutes for greetings 🙂
Now, let's go back to our topic. Dogs are a very important part of the families who have them in their life. For sure when you have a newborn baby in your family, you want to capture a lovely candid shot of them together. Here in Jana photography, we have a great experience to work with dogs and newborns together. But to have a better result we need to be prepared. Us as a newborn photographer and you as a parent (especially new parents)!
So far we had a great experience with some big, medium and small size breeds like the English bulldog, Pomeranian, Poodle, Husky, Chow Chow, Chihuahua, Golden Retriever, French Bulldog, Yorkshire Terrier, Cavalier King Charles Spaniel, Dobermann, German Shepherd and …
What do you need to know as a parent?
Here at Jana, we use studio lighting and posed style newborn photography. It means we need your dog or any other pets to listen and follow your orders. We need your dog in a certain position and calm. Usually, for a bigger dog, it's easier and they listen very well. But for a smaller dog, it's a little bit harder, because they are more excited and do not stay in a place for a long time. But there are several ways to capture them close to your newborn baby.
Also, you need to introduce your baby and dog before the photoshoot. There are hundreds of articles about Introducing babies and dogs on the internet that can be helpful. Don't let it be a surprise for them.
How be prepared for newborn photography and a dog?
walk/run the dog before coming to the studio.
To have a smooth photo session is better to keep your dog on a leash.
Please keep in mind that it's a newborn photography studio and baby's safety is our priority. Bring them only if they are well-behave and if they follow your orders.
Have a different type of treats and some of your dog's favorite toys.
Bring your pets (dogs) if you are 100% comfortable with this.
Be patient. Newborn photography is hard and when a dog or cat is joining the photoshoot, it gets harder. Stay calm, this is a process and it might take a little time.
Have a family member or a friend to take care of your dog during or after the session.
Do not worry about water, we have freshwater and bowl for dogs.
Now, let's go and see some sample photos. This helps you to get a better idea of what to expect: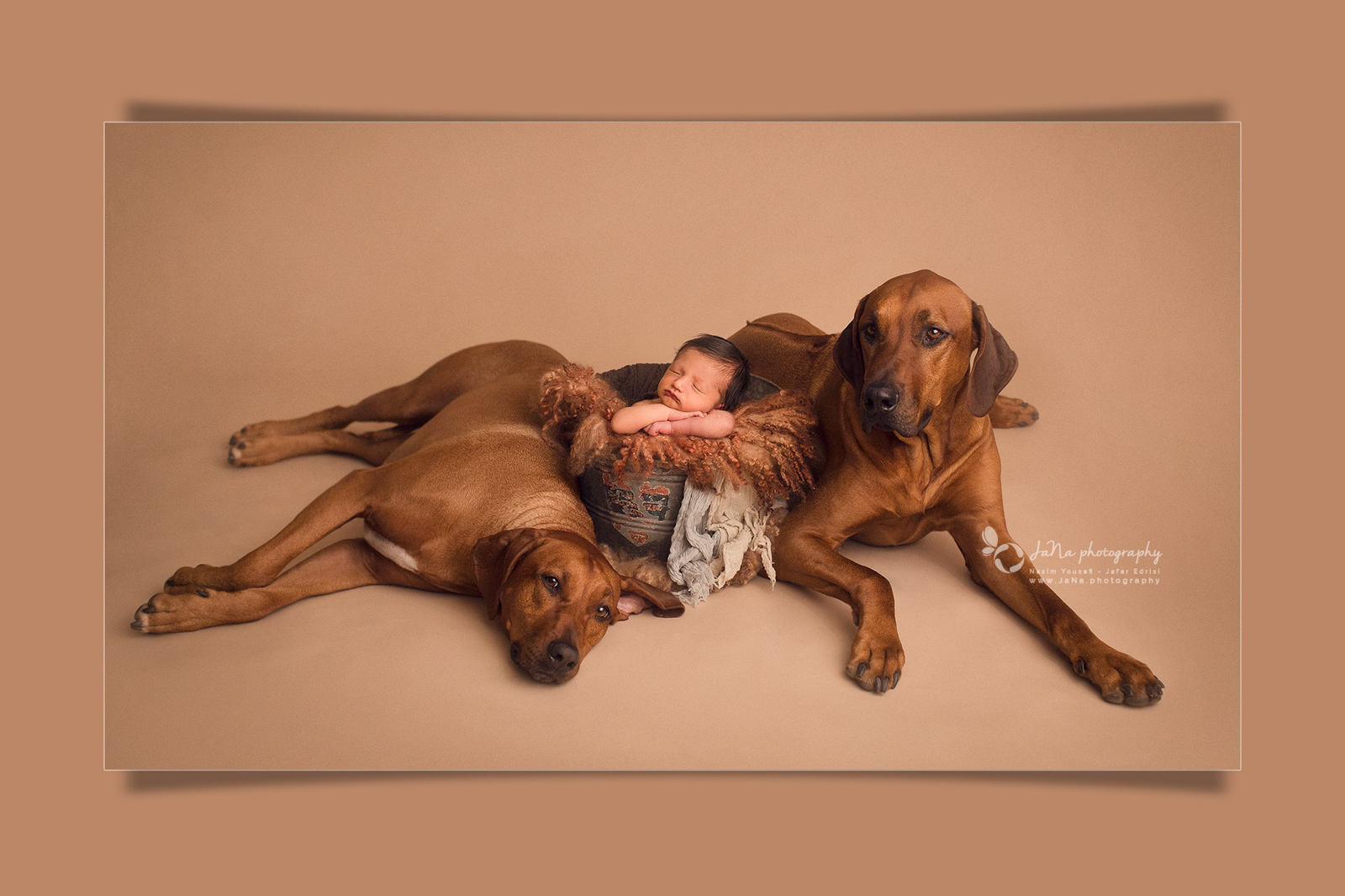 Lovely Sabie and Yukon "Rhodesian ridgebacks" joined their baby bro newborn photography session and made it a very special experience for us and their family. They were so cooperative and patient in following mom and dad's direction and create a safe scene for the baby. This photo won an international award.
If you think your dog can't handle the photoshoot and will not behave well. Also, it's not safe for a newborn. Do not worry. We will use photoshop and composite the photos together.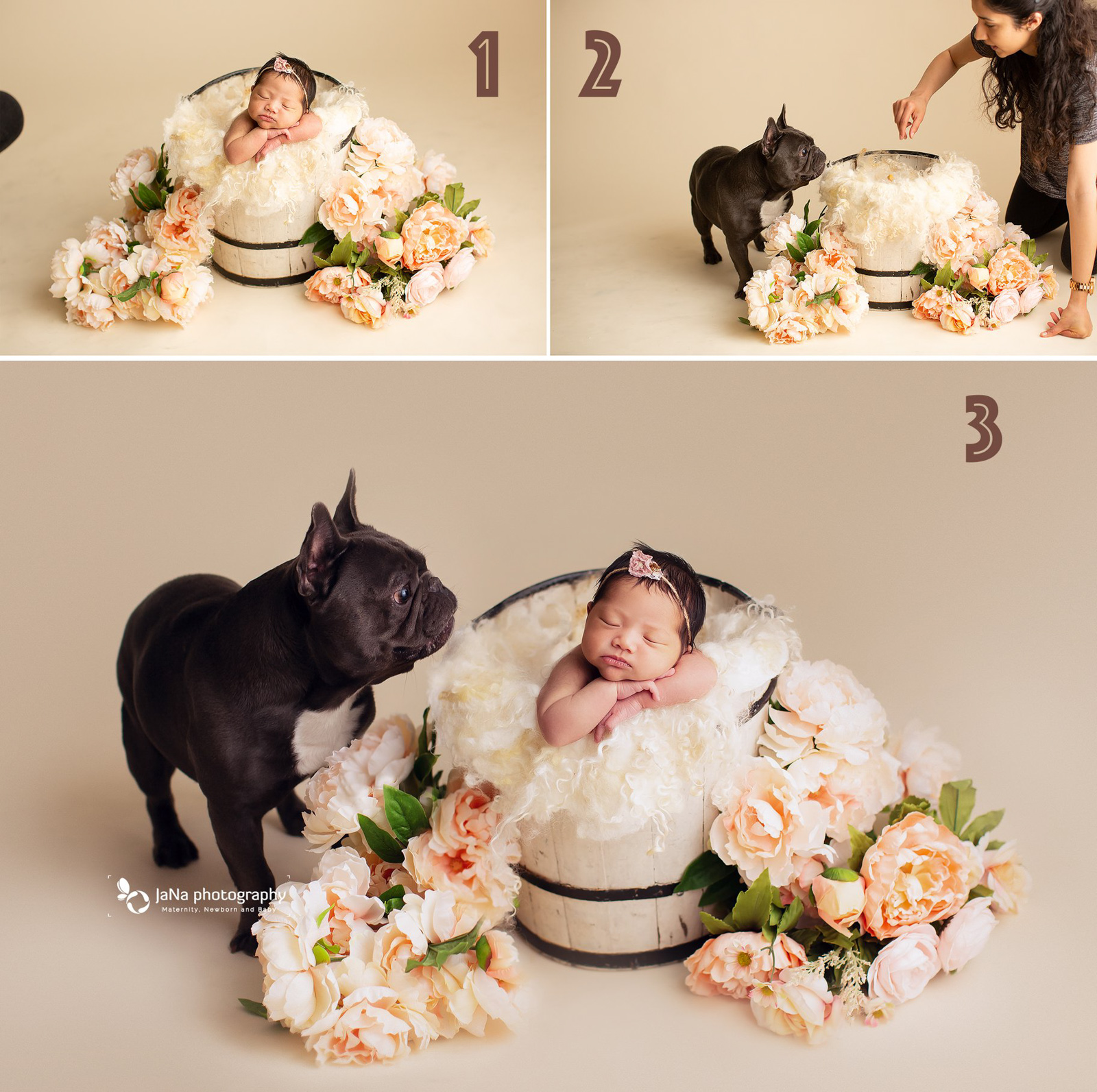 1,2,3: Safety comes first in all of our baby photography sessions ❤️ This is how we include dogs and pet family members close to the baby in our setups. We combine the photos later in photoshop.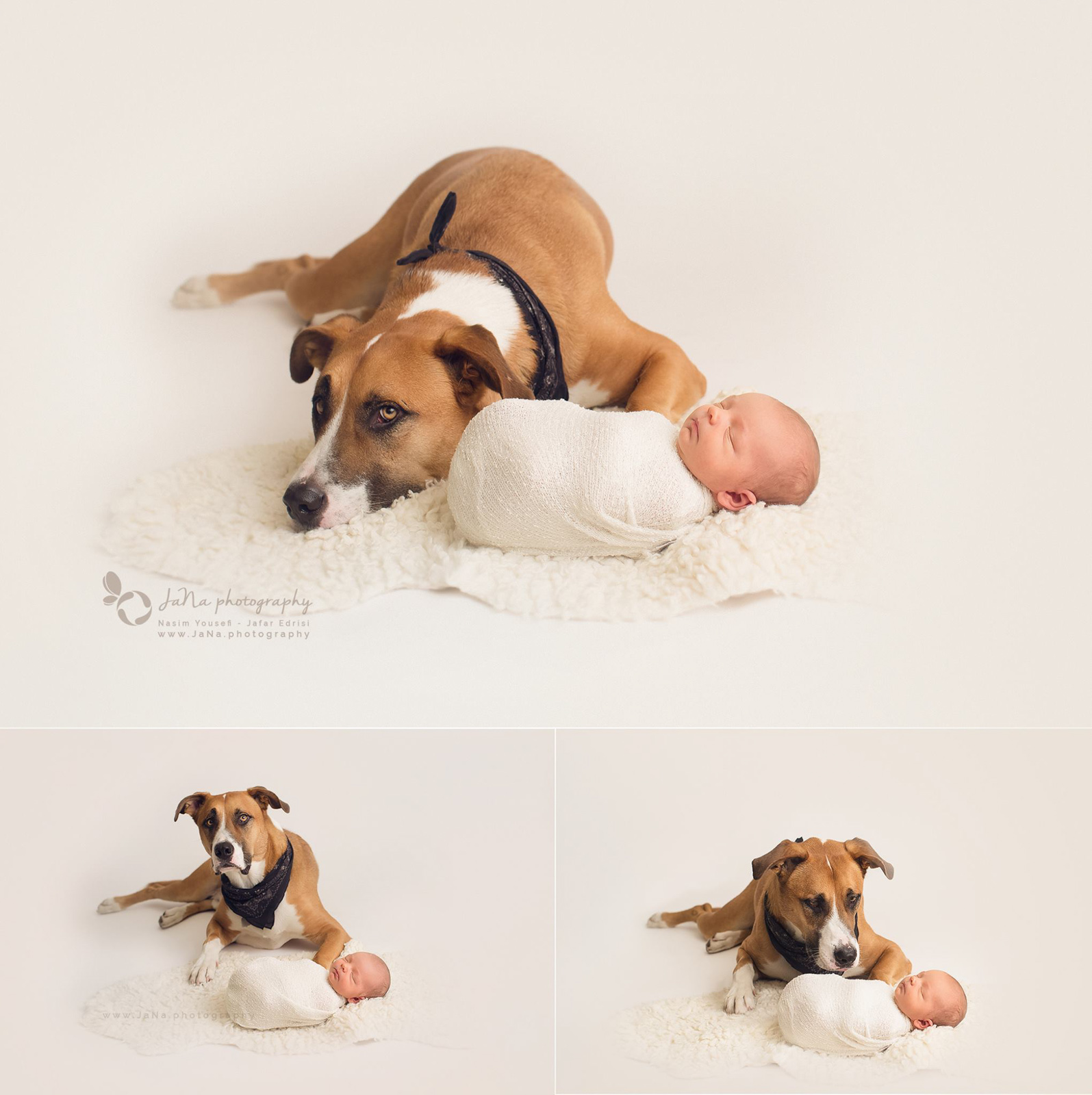 Here check some of our backstages and behind the scenes of newborn photography with dogs.
Also in Summer 2018, we had a chance in a very good and warm weather condition in North Vancouver doing a newborn session outdoor. The lovely family had a new baby and also adopted an English bulldog.
For more portfolio check our Instagram page and let us know if you have any new ideas to photograph your newborn and your newborn.