What to expect at your maternity photography session?
Arrival
This post is about what to expect at your maternity photography session? Upon arrival, my assistant and I will welcome you to the studio, where you will see our lights and backdrop already set up for your shoot. While you take a seat in the waiting room, we will go over the outfits you brought with you and will suggest different poses for each look. If you bought a framed picture of your baby's ultrasound, or a cute pair of shoes — Great! We will incorporate your props into your shoot as well. Experimenting with the outfits and the props will give you and your partner an idea of what it will be on set. This will create a more comfortable experience when you're in front of the camera.
Often, expecting-mothers are uncomfortable with their new bodies. Perhaps, it is out of one's comfort zone to stand in a studio with a belly popping out. However, as your maternity photographer, I urge you not to think that way because believe it or not this is a once in a lifetime experience —the only time you are gifted to carry life within you, so why not capture this moment? A maternity photography session is not your average cellphone selfie but rather a work of art that can be preserved for the rest of your days. Check the maternity photography page to see some of our samples, and discuss your ideas with us — we'd love to hear from you!
Warm-Up
Then, your partner can sit back and relax in the waiting room. Snacks and Juice provided. Did I mention Free WiFi? Your partner can watch a whole episode on Netflix before we ask him or her to join us for the shoot. You will be taken to the studio and will be asked to stand in front of the backdrop. While I shoot, my assistant will try different settings in order to find the best light that complements your complexion.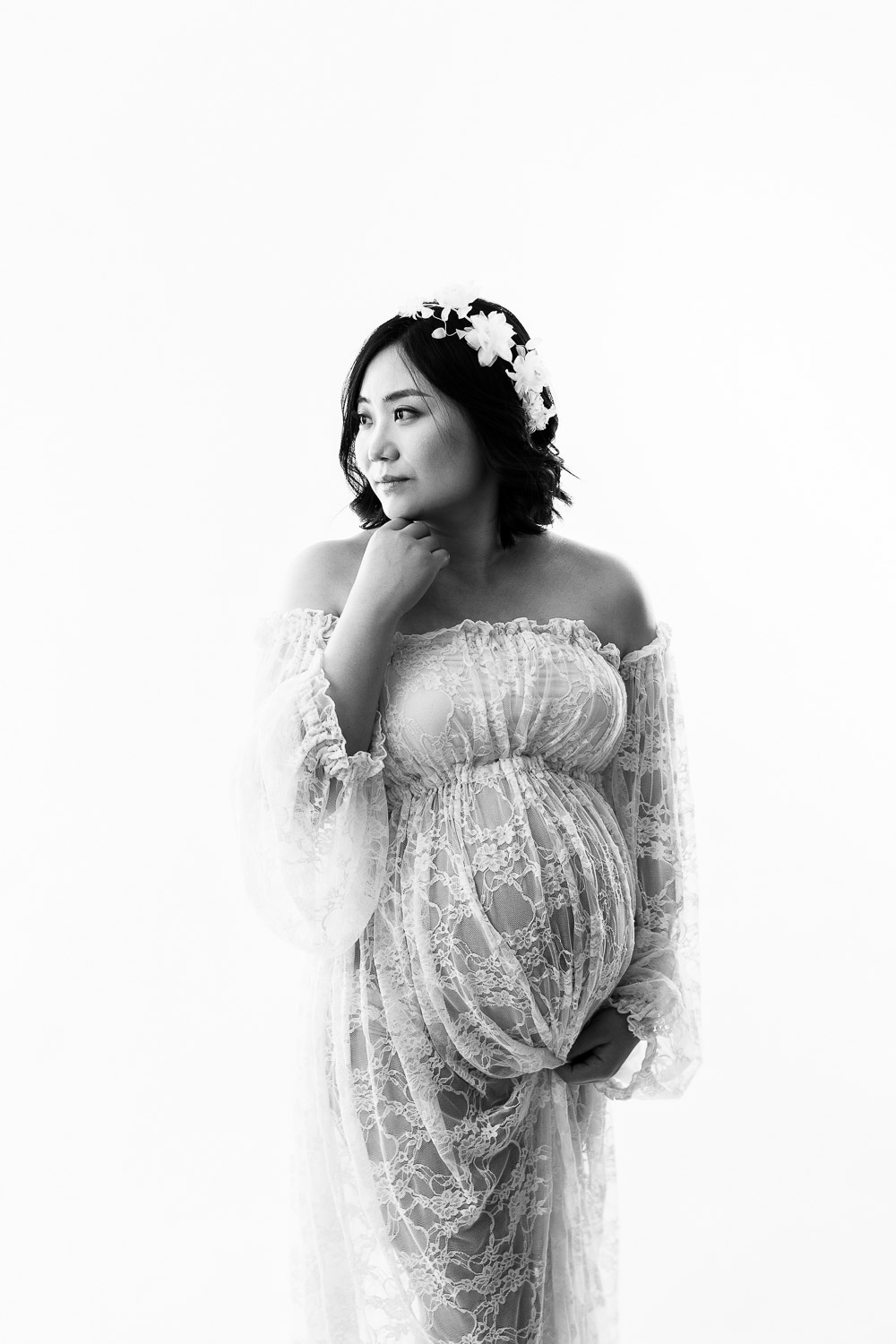 Maternity photography FAQ
Ready, Steady, Go
Once on set, you're a supermodel, with the fan blowing through your hair. Imagine being on the cover of Vogue: Maternity Edition. We'll try different styles and poses, and work with the angles that bring out the best in you. By now, you are already familiar with my shooting style, and you are able to respond to directions more comfortably. We will ask your partner to step into your shot from time to time to add more to your couple shots.
Your Ethereal Look
Here at JaNa Photography, we take pride in making our own maternity gowns. Our clients love our designs, and it definitely adds a delicate and intimate feel to your maternity shoot. We use lace, silk, satin, and sheer fabrics to customize the gown to your body. Our materials come in a whole range of colors from warm to cool to neutrals; so let us know your color preference ahead of time, and we will have the fabric ready for you.
Wrap Up
After your shoot, give yourself a round of applause for having modeled and listened to our directions attentively. We appreciate your cooperation since you helped us create a masterpiece. At this point, we will work with your schedule to set a time and date for your viewing session.
Viewing Session
This is when you come back to our studio to narrow down your entire photoshoot to a select number of images (depending on the size of your purchased package). We love sitting with our clients and getting feedback while viewing the photos one by one to reach a final verdict. Once you have selected your favorite images, allow some time for us to process and retouch your pictures to the utmost of your satisfaction. If you are in a hurry, do not worry as we can accommodate "rush orders" for 1-2 photos. We understand that special occasions are always around the corner with the coming of the baby (e.g. baby shower) and photos may be needed for invitations or event displays. In all other cases, your captured moments will be delivered to you within 2-3 weeks.
Thank you for stopping by and learning more about us.