What to expect at your maternity photography session?
Congratulations on such an incredibly special time in your lives! We are so glad and honoured that you chose Jana for your glamorous maternity photo session. Here you could find all the details of the process from booking a session to the last seconds of your maternity photography session.  
booking
To book a session, you have the option to submit an inquiry, here or send us a direct email. We will get back to you in less than 24 hours with more details and "Covid Safety" process. 
Prior to session
Once booked, you will get a check list of all the things that you need to know for your preparation. Our beautiful mothers sometimes worry about different things such as wardrobe, studio safety, etc. In this case, we would like to let you know that we have an optional online consultation session for your comfort prior to the shooting to clarify anything that it's in your mind. Just give us a call or mention this in your email that you want to have a consultation session.
We have a wide variety of fabrics, outfit and gowns to meet everyones's taste so that you will have the option to go with your own style. Of course, if you have an outfit that you like, we are more than happy to use that as well as our own wardrobe. 
Arrival
Let's mention once again that the hair and makeup are not included in our services and needs to be done offsite. If you need recommendation for a hair and makeup stylist let us know and we would be happy to share the contact information with you. Upon arrival, we welcome you to the studio, where you see our lights and backdrop already set up for your shoot. While you take a seat in our very comfortable reception area, we go over the outfits you brought and show you our maternity wardrobe. We suggest different poses for each look and present some samples and ideas to see what your taste is. We are completely flexible and open to new ideas so in case you have something on your mind, let us know.
If you bought a picture of your baby's ultrasound, or a cute pair of shoes — Great! We can also incorporate your props into the shoot. 
Often, expecting-mothers are uncomfortable with their new bodies or shy in front of the camera! I urge you not to feel that way. We will bring the best out of you by helping you feel comfortable during your session. So think of an enjoyable experience and be excited about it!
​Every single-family leaves our studio very happy and excited about the decision they made. They remember it as the best treat during their pregnancy. We will cheer you up during the session so that you feel like a professional model! You have the pregnancy glow and beauty of carrying a life within you and we do our magic to create once in a lifetime experience.
Breaks
In our reception, snacks, coffee and tea are provided. You can get a break during the session and take a rest before the next set up. We also have free wi-fi for you to use. If your partner accompanies you or you have booked the Couple Glam or VIP Glam, they can stay in our reception for the times that we are shooting just you.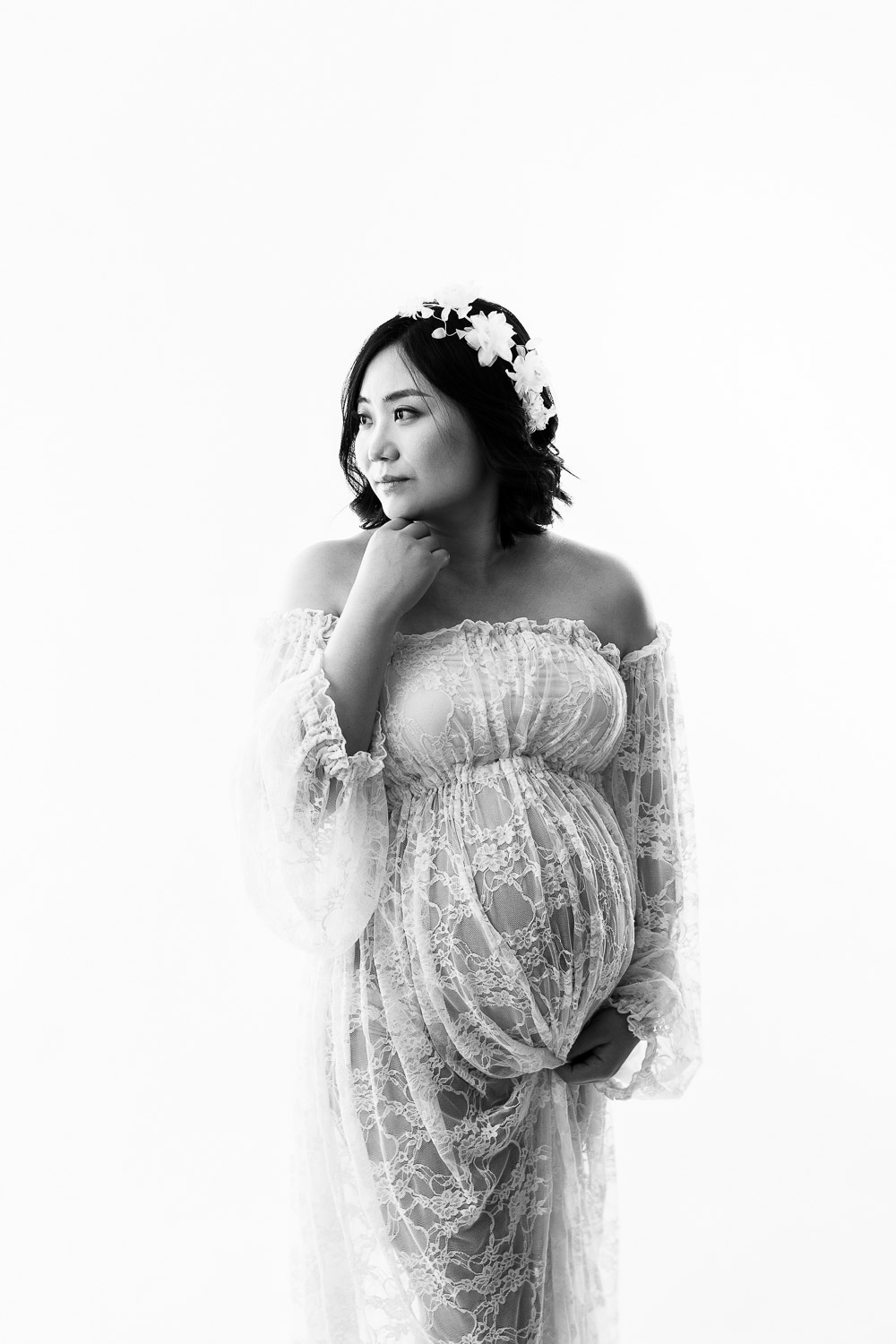 Maternity photography FAQ
Ready, Steady, Go
Once on set, you're a supermodel, with the fan blowing through your hair. Imagine being on the cover of Vogue: Maternity Edition. We'll try different styles and poses, and work with the angles that bring out the best in you. By now, you are already familiar with our shooting style, and you are able to respond to directions more comfortably. If you have booked the couple option, we will ask your partner to step into your shot from time to time to take shots of them.
Your fabulous Look
Here at JaNa Photography, we take pride in making our own maternity gowns. Our clients love our designs, and it definitely adds a delicate and intimate feel to your maternity shoot. We use lace, silk, satin, and sheer fabrics to customize the gown to your body. Our materials come in a whole range of colors from warm to cool to neutrals; so let us know your color preference ahead of time, and we will have the fabric ready for you.
Variety
As long as you are comfortable changing outfits, we would be happy to help you with that in the timeframe of the photo session that you have booked. There is no limit in numbers of outfit change and we make sure you have a great variety of different poses and clothing before we wrap up the session.
Session ends here
Once we finish our photography session, you will be able to go back to your comfortable clothes while we explain the next steps.  
Viewing Gallery – How would be the process after the session
After the session day, we go through the photos and narrow them down to the best pictures. After about 1 week, we'll send you a link to your online viewing gallery/digital; keep in mind that this gallery is not edited yet so don't worry about any distractions in the shots. In most cases, the gallery comes with more than 100 images. That's where you make your favorite selection and choose the ones you like the best as part of your package. Once you have selected your favorite images, we start to professionally edit your images.
The total turnaround time is between 4-6 weeks depends on how busy the line is after your selection is final.
We can also accommodate "rush orders" for 2-3 photos so that you can share it with your family or for any announcements. 
If the package includes prints, we recommend our clients to first choose the photos, then get the edited versions and order the prints from the high-resolution edited versions which come in both color and black & white. Please kindly note the prints need to be selected from your final edited images.
Are we able to get/purchase more photos
You get a chance to choose your favorite selection out of all the images we send you in a private online viewing gallery. We don't give away raw images and they are all copyright protected but since we share a nice variety of pictures in your online gallery there is option to add images to your package.
We create a very nice variety and most of our lovely clients end up loving more photos than their package allowance. If that happens, you can definitely purchase and add more images to your package a la carte.
For maternity sessions, the additional images (digital copy) are each $50 + GST and they get professionally retouched provided in both color and Black & White version. 
We also have package discounts for adding 5 or 10 extra images. We will discuss the detail after confirming your session.
Thank you for stopping by and learning more about us.