Have you ever thought about buying a newborn photography gift certificate for a friend or a family member? This might be one of the best ideas for those who you love. Why not give them the best gift for this happy occasion :
JaNa Newborn Photography gift certificate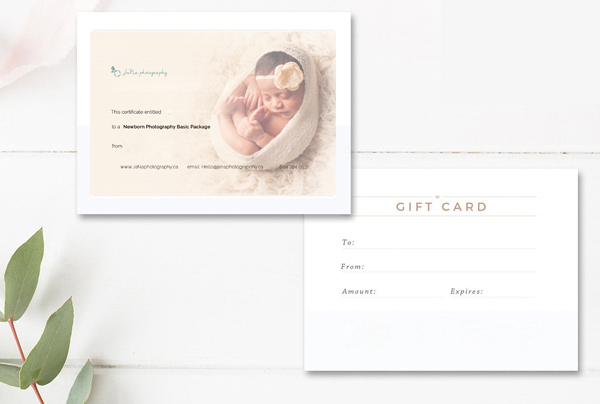 Newborn photography is a lovely experience. Lots of parents like to do it but they don't get a chance to plan for it ahead of time. With this lovey surprise helps them capture and eternalize the first and most precious moments of the newest member of their family.
Check our services to see your options. You can either pay a part of of a package or the full service. Ask us about the details we would be happy to help you. 
Please read the description below before taking the next step 
What you need to do:
Before you purchase a newborn photography gift card make sure the parent is comfortable about taking their baby for a photography session.
A newborn photoshoot takes place within the first 2 weeks of the baby's birth when the babies are more sleepy and flexible for the newborn photography cute poses. The gift certificates are not transferable to another milestone.
We encourage you to have a look at the packages in our "Services" page.  We haven't set a minimum amount to our gift cards. You can either pay a part of of a package or the full service. Ask us about the details we would be happy to help you. 
Once you paid for the card we issue a very nice digital gift certificate with your name and the recipient's name on it. We send the voucher to you digitally high resolution by email. If you prefer a physical copy we have that option available as well.
And one last detail. Once the expecting family receives their gift card, all they need to do is give us a call or drop us an email in order to schedule their session. We do however encourage you to purchase a voucher a few weeks before the actual birth. This will give both the mum and dad and ourselves enough time to fit the new one's photoshoot in our calendar.
Are you curious about seeing some photos? A newborn photography gift certificate purchased for a lovely family? Take a look at this Album.

Here is what the family wrote for us after their session and seeing their pictures:
Hello!! WE LOVE PICTURES. Thank you so much!!!! 
I  don't know what to say but seriously I didn't expect to like our photos this much.
The pictures are absolutely beautiful!!! I'm so glad that I have shared this experience with you!