Prep Newborn for photography session can be a stressful affair, but it doesn't have to be. We've compiled a list of six tips and tricks to help your photoshoot experience to be painless. Also even fun for you and your babe (we're not lying—it's possible)!
1. Schedule, to have more time to prep newborn for photography
As a rule of thumb, if you would like to have a photoshoot with your newborn, it should be scheduled for within the first two weeks of the birth. We recommend scheduling your photo session as far in advance as possible as because spaces fill up quickly.  Realistically, arranging a photoshoot is probably not going to be on the top of your list of priorities after giving birth! As such, save yourself the stress of scrambling to find a last-minute newborn photographer. Also potential disappointment of missing out on the opportunity altogether.
2. Crank up the heat
If the photo session will be taking place in your home, we strongly recommend turning up the heat much higher than normal prior to the shoot (between 26°C and 28°C is ideal). This is how we prep the studio for a newborn photography session. Babies are very sensitive to the cold and they will likely be spending most of the session in the buff, so you want to make sure you keep this in mind. The heat may be slightly unpleasant for you, but the photo session will go much more smoothly if your baby is comfortable and content! Warming up baby's blankets in the dryer every now and then during the shoot is also a great idea. Altho we have a professional baby-friendly photo studio. We always keep an eye the temperature to have a pleasant environment.
3. Loosen up clothing
To avoid having diaper marks or red skin show up in the pictures, make sure your baby is not dressed in tight clothing before the session. Ideally, remove your baby's diaper an hour prior to the shoot—if this totally isn't possible, try to ensure it is as loose-fitting as possible. If the photography session is taking place in your home, wrap your baby in cozy blankets, and if you are traveling to the studio, dressing your baby in loose-fitting clothing is fine.
4. A sleepy baby is a happy baby
The cutest newborn photos are ones where they are falling asleep or already asleep. As such, try to keep your baby awake for two hours before the shoot so we can capture that adorable dozy baby look! we always have a white noise machine to keep baby calm and sleepy. This is the most important part of how to prep newborn for a photography session.
5. Stay calm
We know how difficult it can be to keep your cool during your baby's photoshoot, but it's very important for you to stay as calm as possible. Babies are extremely sensitive to the emotions of those around them—especially mommy's and daddy's—and if you are freaking out, so it is quite likely your baby will too. Try to rest assured that we have been doing this for a long time, and the comfort and safety of your baby are of paramount importance to us.
6. Pamper yourself
We know—you just had a baby and getting your hair and nails done is the farthest thing from your mind. Also preparation newborn for a photography session is hard. But regardless, we strongly encourage all parents to treat themselves a little before the shoot. These will be some of the most cherished photos that you own, and also you want to make sure that you make the most of the experience and love every aspect of the end result! Plus, you deserve it. You just had a baby and deserve a little self-love!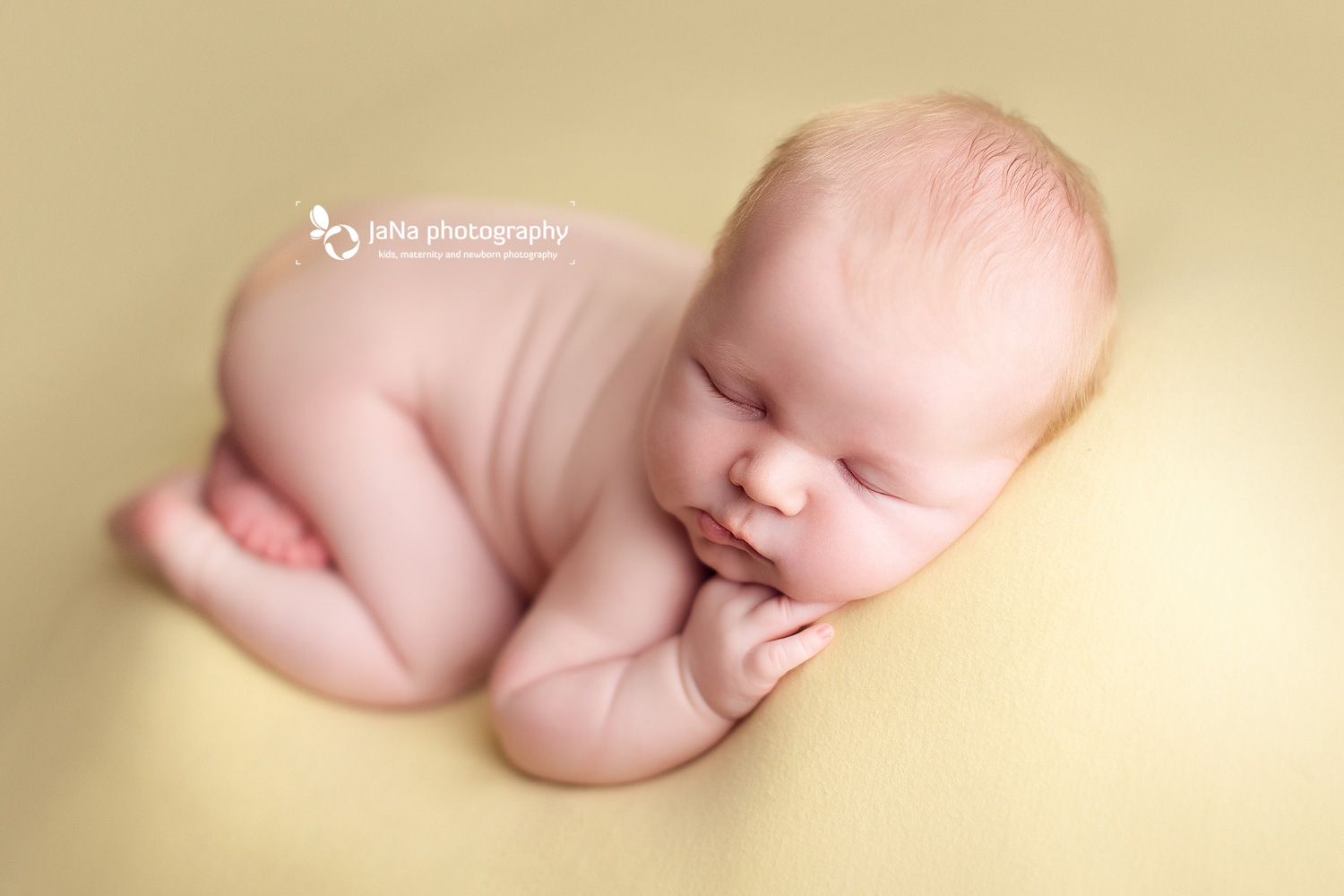 sleepy newborn on simple yellow
Hope this article helps you to be more prepared for your newborn photography session. Prep Newborn for photography is one of the most FAQ of all the parents. If you need more help contact us.
more question about how to prep for your newborn photography session?
We are here to help…