I know we are all experiencing a very challenging and mysterious time during this cover 19 outbreak. For some of us, this might have been the scariest time of our life but as suggested by health advisors we can be safe as long as we stay at home. Looking at the positive side we can use this extra time doing something very useful.
Today we will talk about one of the best newborn photography with siblings sessions we did in our professional boutique studio in Vancouver.
This lovely family came to us 3 years go for their newborn photography session. Now they are here for their second baby, a beautiful little girl. Seeing your client after 3 years is so exciting. Especially seeing the baby who has now grown up to an adorable sibling is such an amazing feeling. What a beautiful life journey.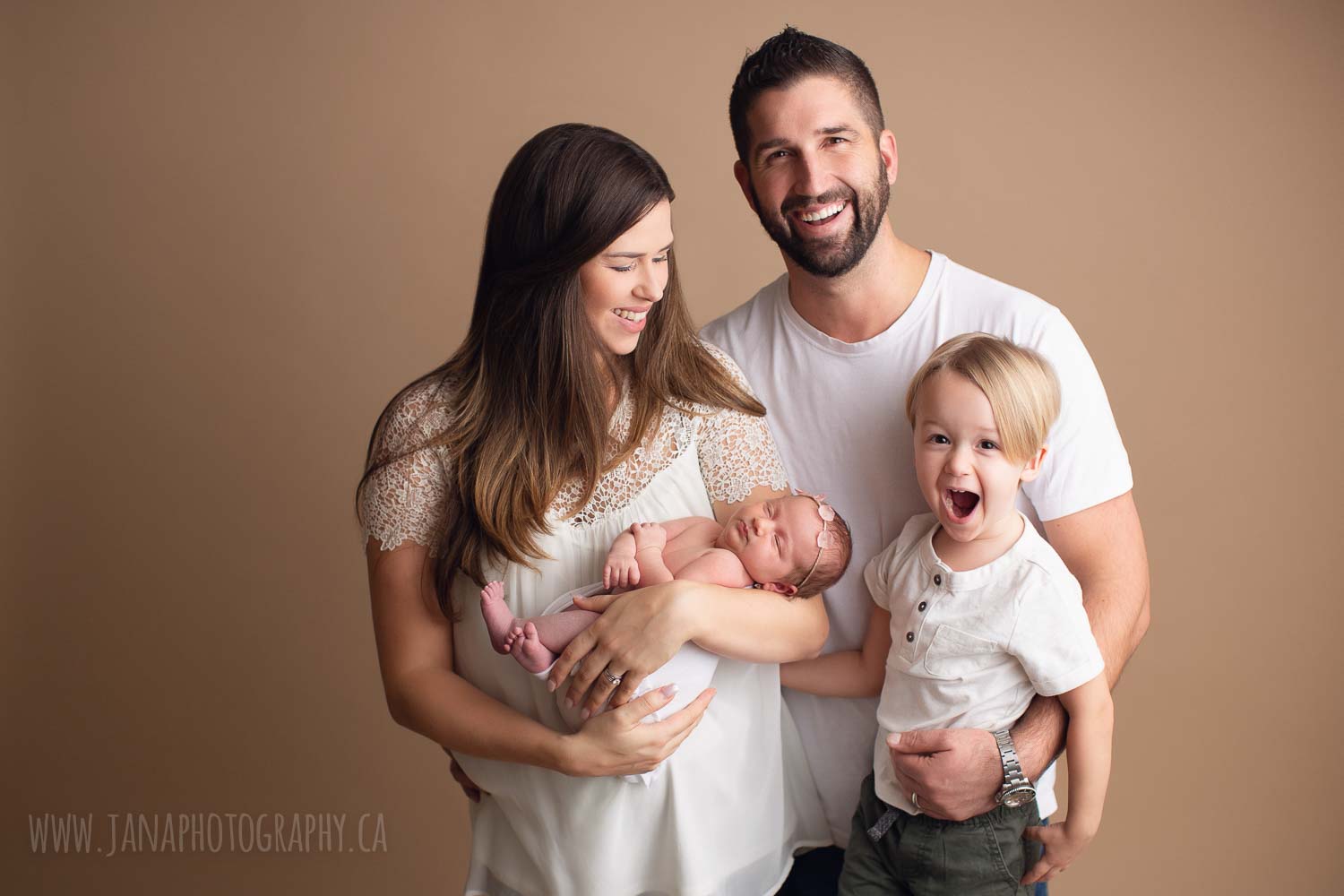 Warming up
For newborn photography with a sibling, we first manage to start the session with some newborn baby's solo shots. This is also a great warm-up for the sibling to get used to a new environment and make friends with the photography team. They can play in our playground which is equipped with so many open-ended material toys and books. Make sure you set up one in your studio. Even a very small space helps a lot. They feel so belong for the wait time for their turn!
But don't forget as the time is crucial especially is the sibling is at the toddler age. Before it's getting too late continue the session with some family pictures. Make sure you incorporate the sibling between 2-5 years old in the very first pictures. A group family shot and some only sibling and brand new baby together.
Challenging time!!!
 The challenge starts when you want to get those sibling shots laying on the floor and the sibling hugging the baby. This is the hardest part of your job.
In our experience, you can do it without any problem with siblings younger than 2 years and older than 4 years. Yes! Surprisingly the sibling younger than 2 years are the most cooperative ones. They are happy with no reason and they listen to everyone very well.
They actually love laying down on a fluffy fur hugging their new baby. And of course, siblings older than 4 years are great listeners as well. In fact, they understand and help their parents with what they want to have.
Vancouver newborn photography 
Classic package
Tips for newborn photography with old siblings
But! What about newborn photography with siblings between 2-4 years old? Are they good listeners? Do they do what you ask them to do? Not really all the time so your job as the photographer plays an important role!
First of all, make sure you schedule the newborn photography sessions with a sibling at this age in the morning. Don't leave it in the afternoon or evening. They are happy and fresh before their afternoon nap time. They don't like to be bigger by you and their parent when they feel sleepy and tired. So here is a very important key.
Then once they are warmest up try to see who they listen to more? At this moment with a brand new baby, they are very sensitive. Who can talk to them with more influence? Mom or dad? Or maybe they listen better to a new face. In that case, your job will become very easy. 
Try to talk them through the process. Tell them what you are doing. So many times they start crying and they don't listen because they think you are putting them down for a nap. Assure them that you will be very quick and they can play once their job is done. Ask the parent to see if you can offer their toddler a treat. Always keep some treats like lollypops in your studio. They become very handy. Some like the rat and some just like to get distracted. You need to be the judge and try every different way to see what cheer them up. A funny toy? Blowing bubbles? Making funny sounds and tickling them? Yeah. These are very very helpful tricks you can use to get a good result.
You tied all of these and it didn't work? Yes! It happens a lot. If nothing worked just forget about a floor shot laying down on fur. Pose them in a sitting position holding the baby the way they feel more comfortable. Or if they don't like to hold their new sibling ask them to sit beside a bucket where you can later pose the baby inside. To see more details click here and see some nice tips in the previous blog post. 
An advice for you is to never give up on a sibling. With passion and patience in most cases, you can convince them. Don't give up. Try your best. These pictures are priceless and a great memory for a lifetime for a family. A beautiful artwork that is your signature and brings the joy of being a passionate artist for yourself as a photographer. Also, the family will be thankful to you forever as they understand how hard you have tried to make them happy and satisfied.
Having even one good sibling shot is for a family is very valuable. You can make this a very pleasant experience for them.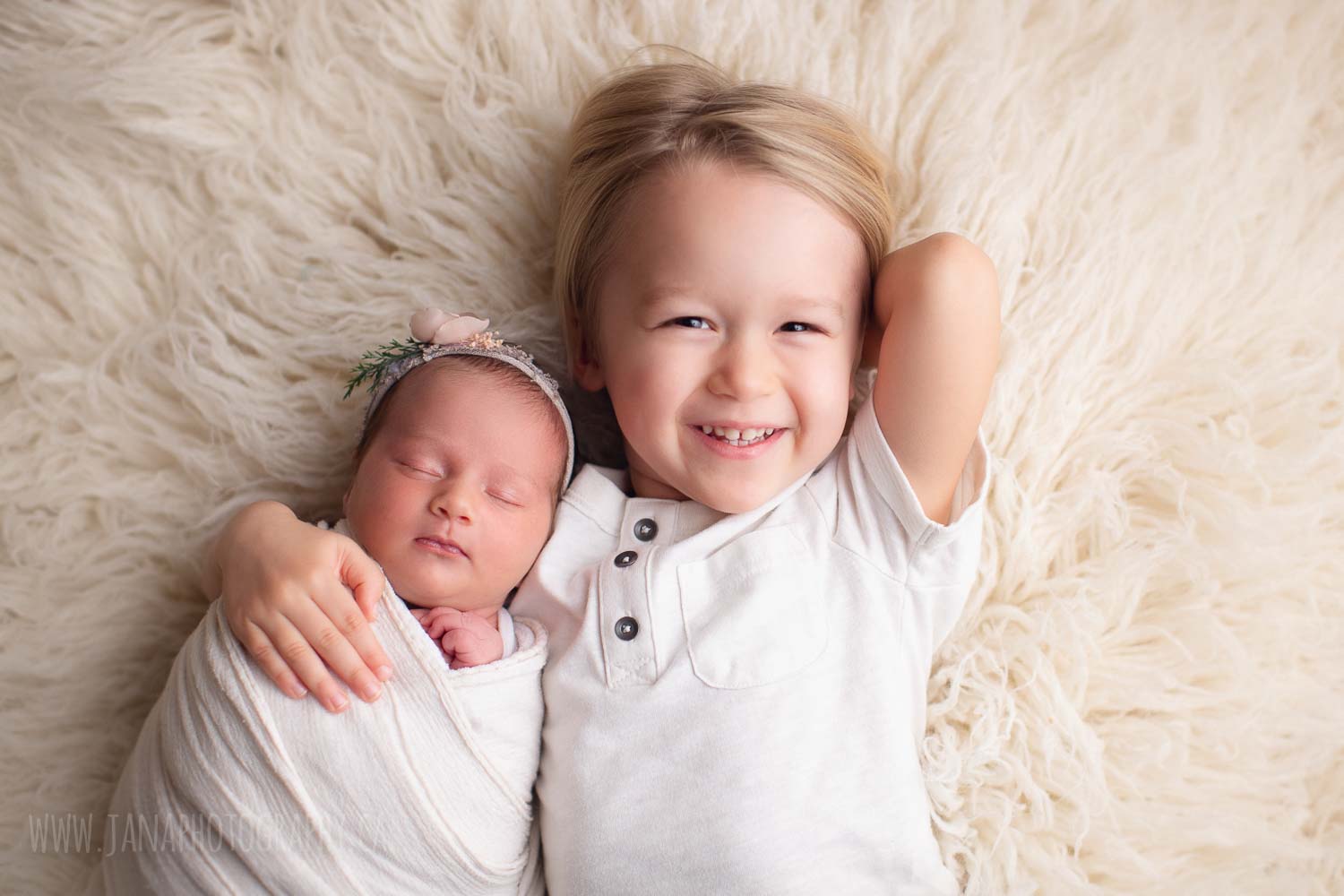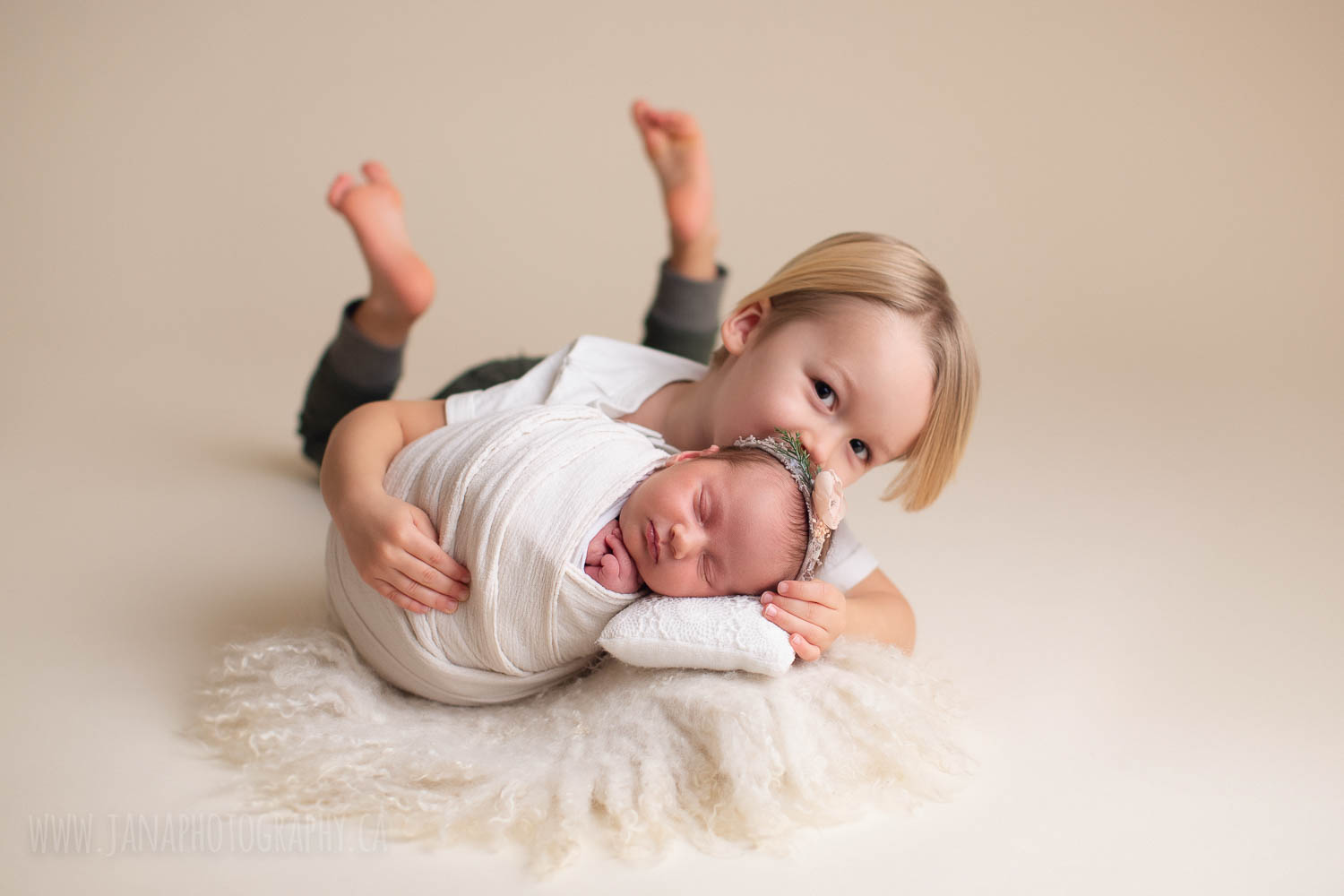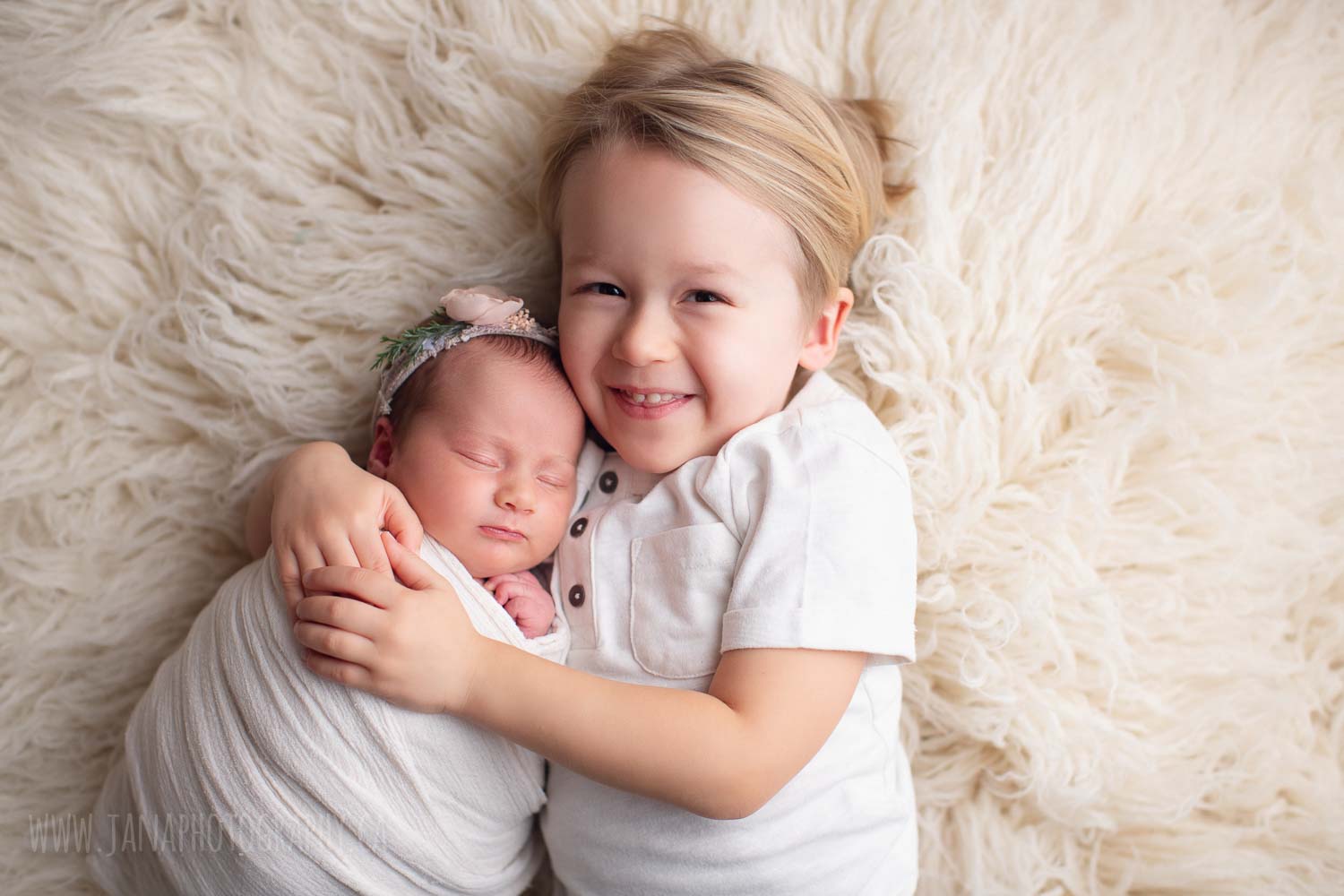 See some sample photos of this lovely family and newborn photography with siblings, who came to us for the second time. The sibling is now 3 years old.
It was so great to capture the smiles and laugh between these 2 kids. Big brother did a great job of holding his little sister, hugging and giggling.
Aria also did great and we had a lot of beautiful pictures. But at the very end, she decided to be awake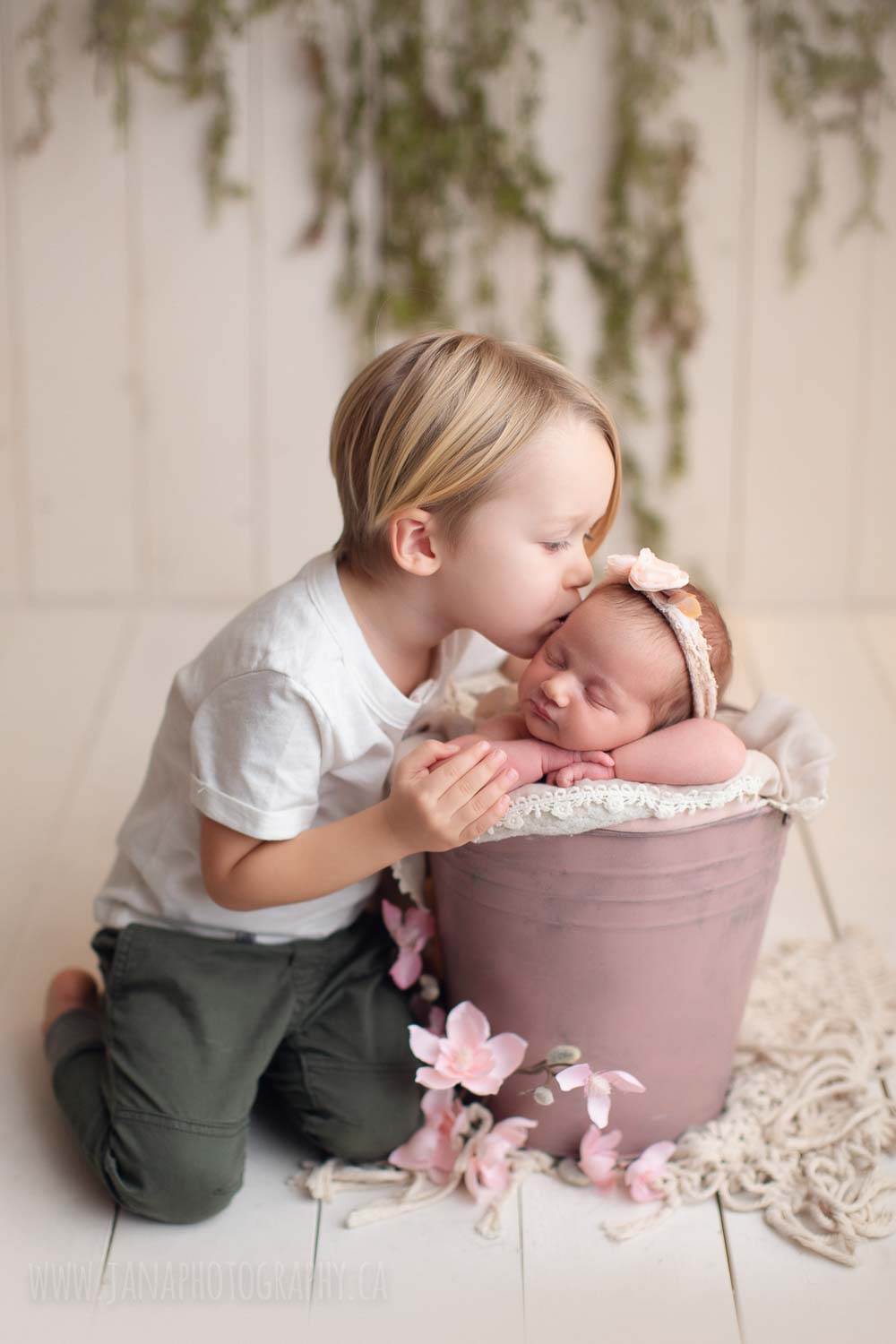 Book your newborn photography now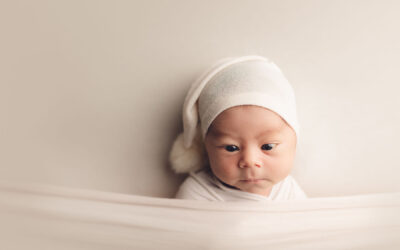 Welcome to our newborn photography weblog, where we share the joy and warmth of capturing those cherished moments in the beautiful British Columbia (BC) cities of Vancouver, Burnaby, and Surrey. We are committed to preserving your family's most precious memories...
© Jana newborn photography | Vancouver, BC
Award-winning professional photography studio. Specialized in maternity, baby, and newborn photography. Serving Vancouver, North Vancouver, Burnaby, Surrey, Coquitlam BC.