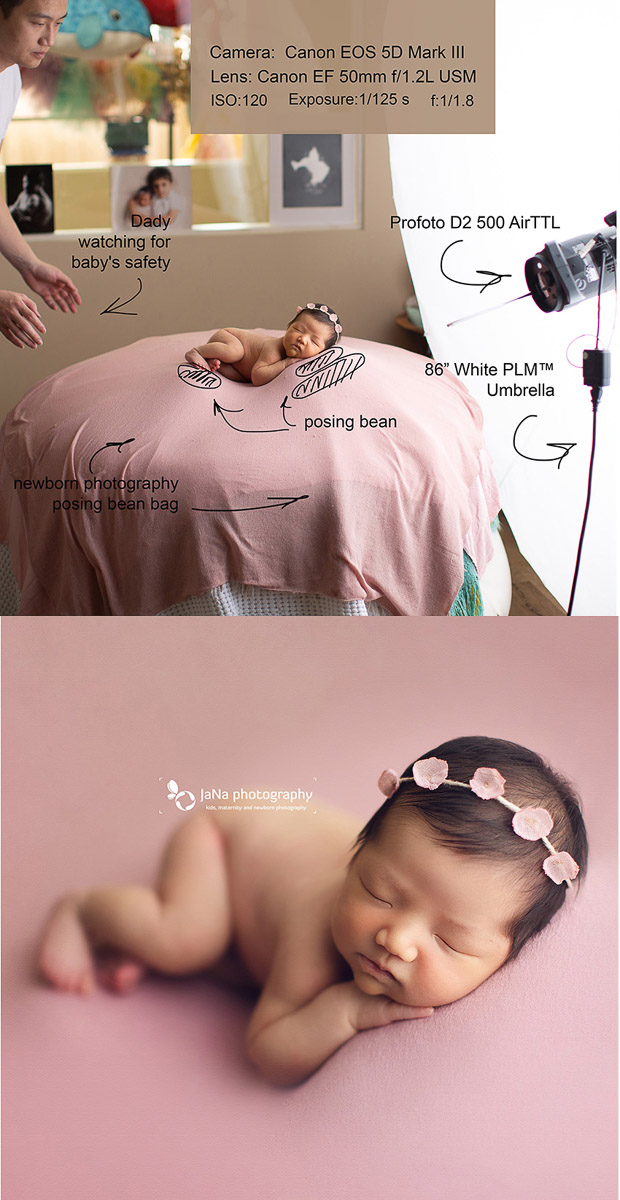 Today in this blog we want to talk about how to pose a newborn baby safely and correctly on a bean bag. and also how to take a beautiful photo in this setup.
Newborn photography is a beautiful and at the same time complex and sensitive art.  So you have to know all the lighting techniques and working with different types of lenses and cameras and composition. Also at the same time work skillfully and delicately with a baby when they are  less than 20 days old, 
We should do our job and make sure not to hurt the baby and not put pressure on baby's neck and back and be careful to not wake them up.
To photograph the baby, you can use different types of bed baskets and props. You should be more advanced to use this kind of props.. 
But working with a newborn baby on a bean bag is much easier and you can create beautiful and classic images that parents would cherish for a lifetime.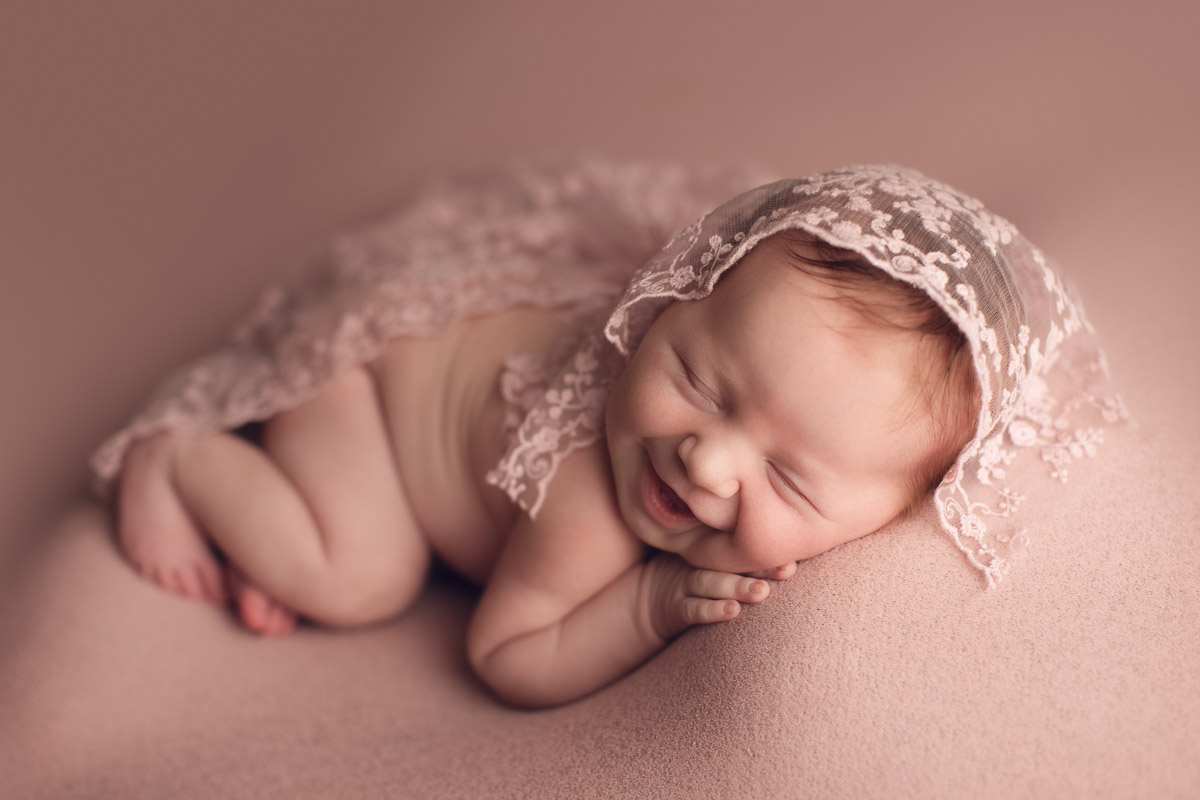 Posing a newborn baby on bean bag step by step
1- Depending on the shape and size of your studio or whether you are going to on location session, you can choose the appropriate size Bag. Desktop or very large size with curved frames. Today, baby photography stores produce this type of bag with variety sizes and shapes, and you can easily find the right shape for your style.
But if transporting the bags is a little difficult, especially when you go to the customer's house for photography, do not worry, you can create a soft surface to pose baby with a little creativity from the customer's sofa and by placing several layers of fabric.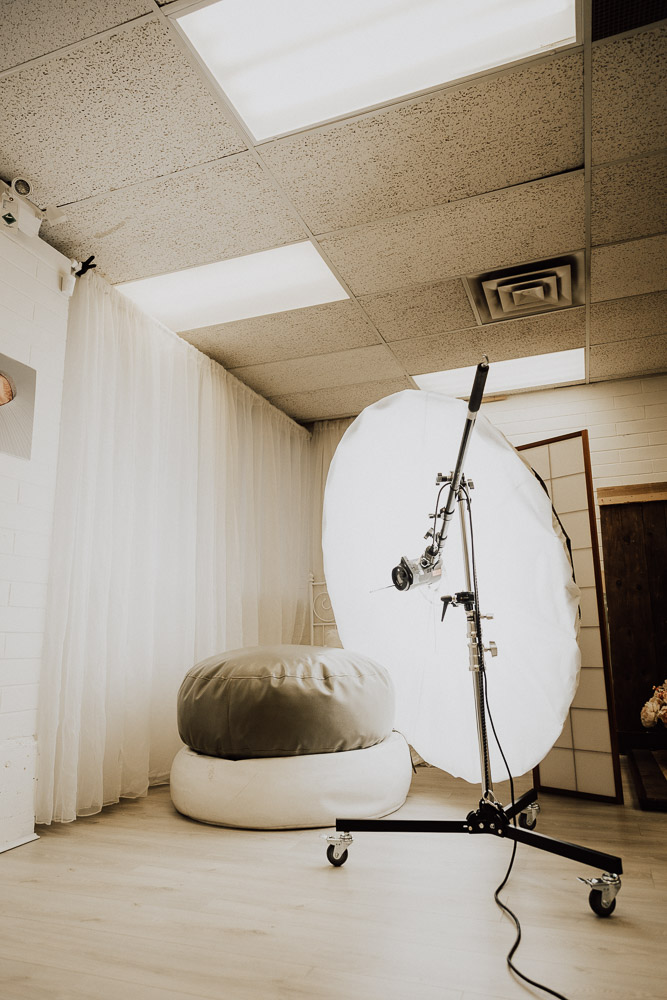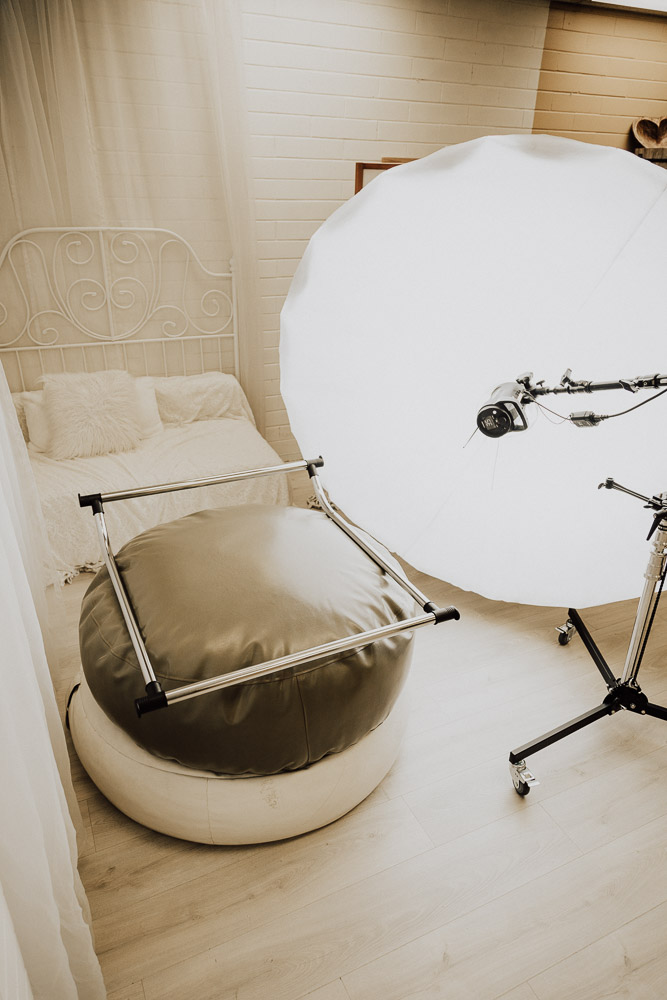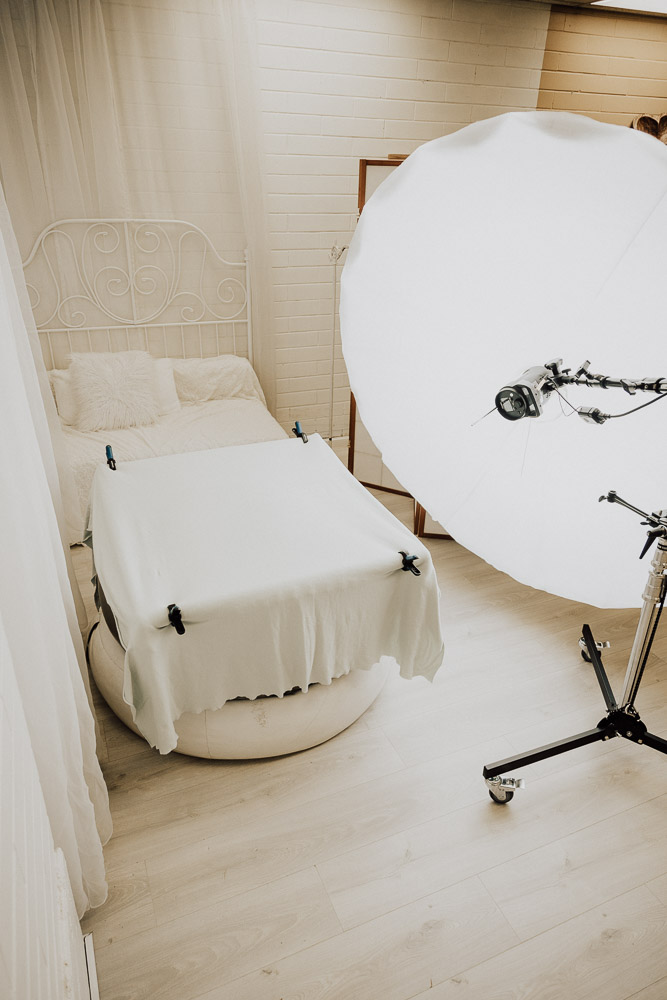 2- To get rid of wrinkles on the fabric and save editing time while using stretch fabrics, be sure to use clamps and possibly a frame.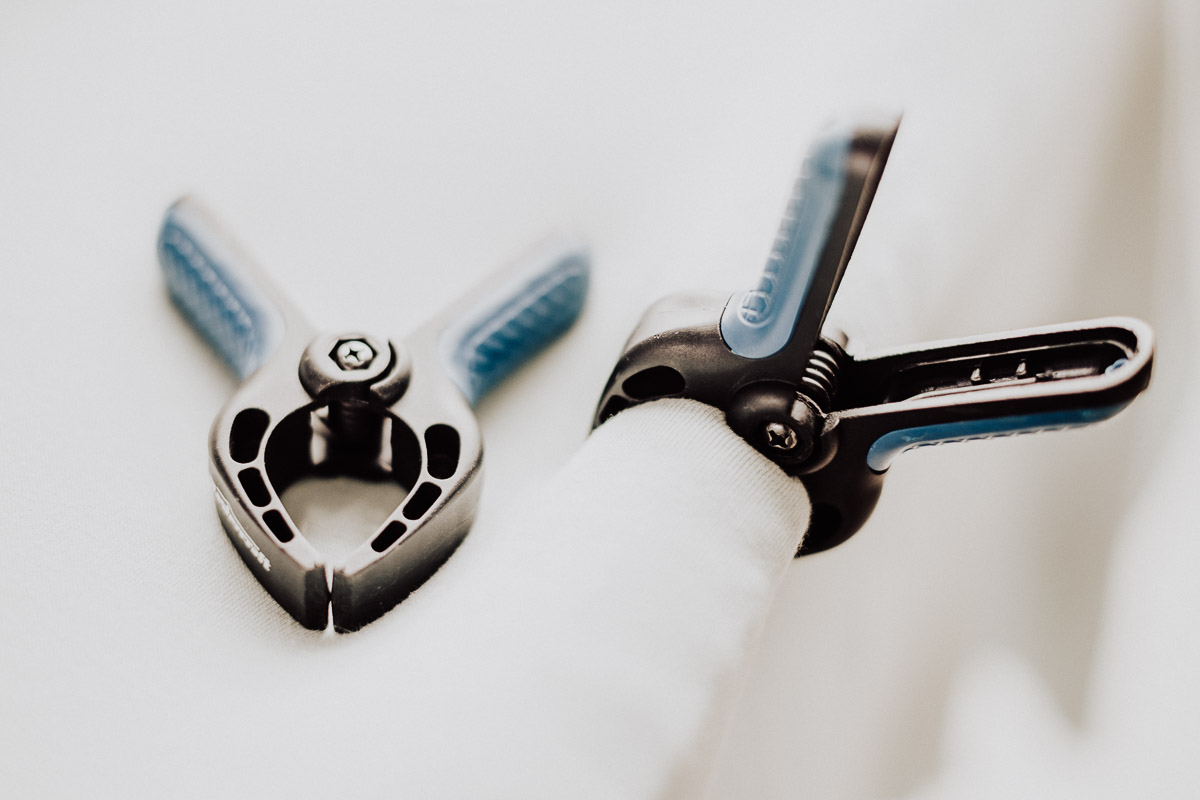 3- To get a smooth surface and prevent unwanted shadows from under the surface, use several layers of fabric on top of the bean bag.
4- If you intend to photograph the baby naked and without a diaper, be sure to use a pee-pad in the upper layers so in case of an accident, all layers of your fabric will not get dirty and wet.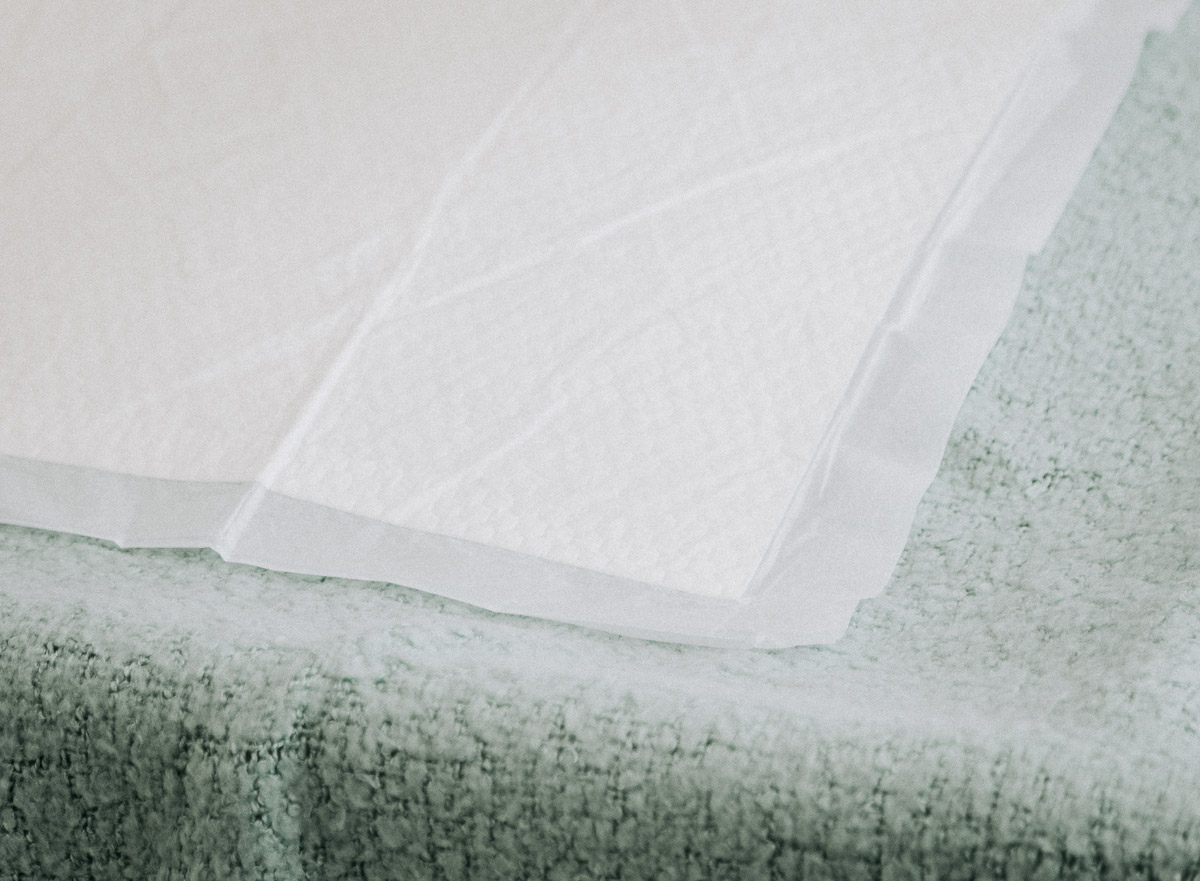 5- To get the best form from your baby's head and feet, you need several posing beans in different sizes. We need at least 4 beans for today's pose.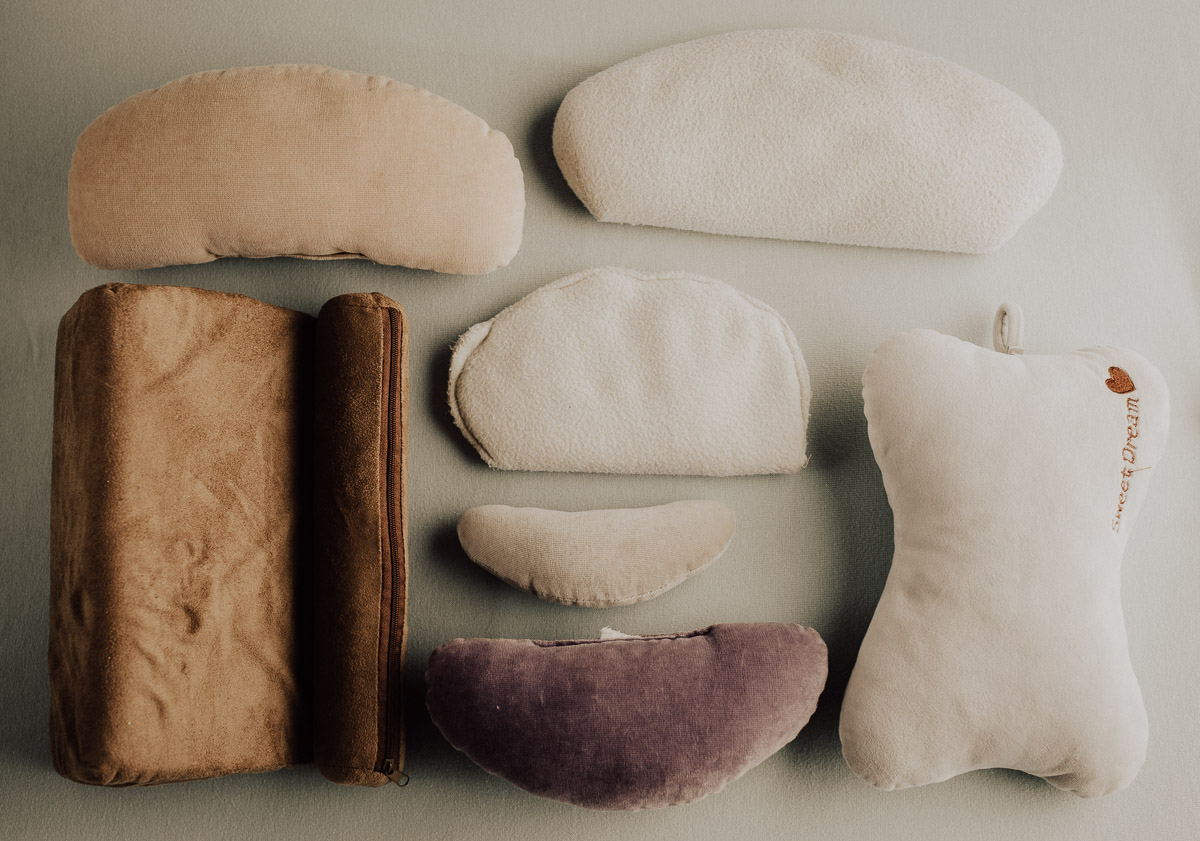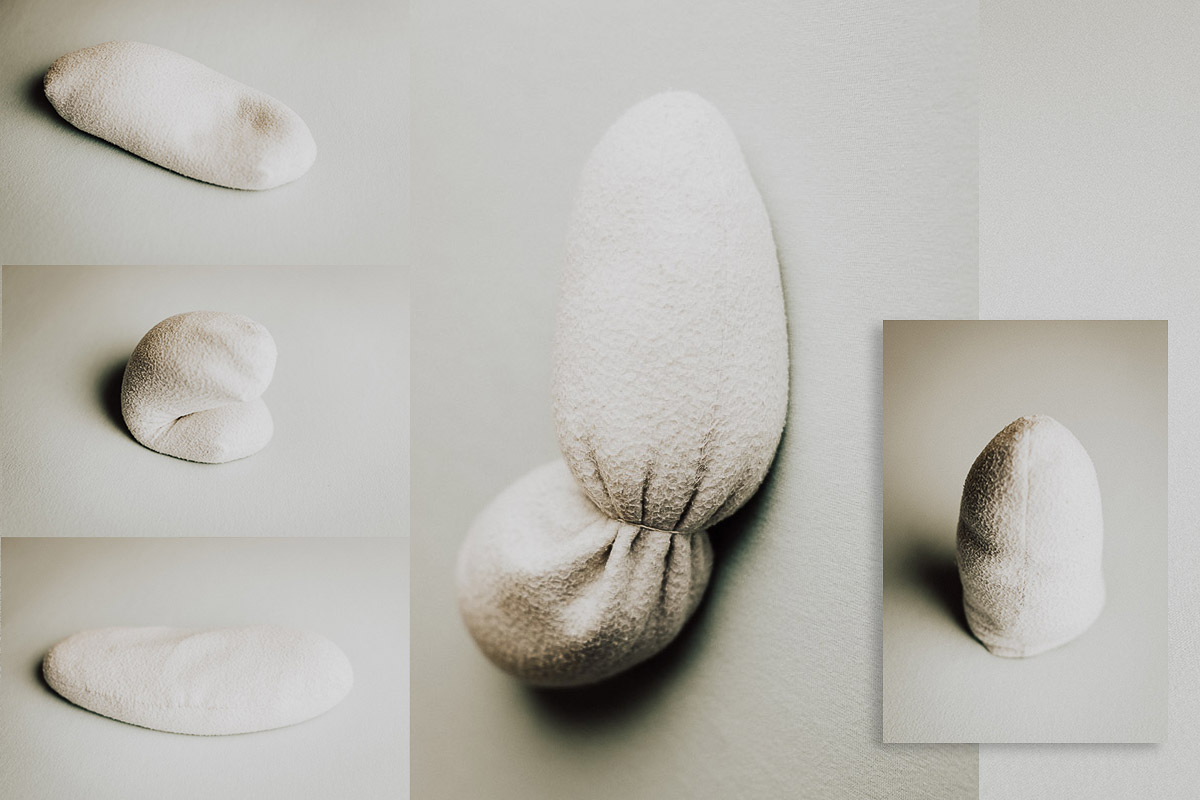 An interesting point. I always use a bean stuffed with rice that changes shape easily and can be shaped to the shape and size of a newborn baby's head.
If you do not have access to these beans, you can use towels and roll them. I suggest that you always have different instruments of simple towels with you. Certainly to achieve a perfect pose always You will need them
6- To pose the baby's hands and feet, we need at least two beans for the head and one for raising the legs up. To prevent baby from rolling, it is better to put a small bean in the back. Of course, depending on the size of the baby, we may put the head slightly lower or higher.
7- Now, with the help of the exercise baby doll and some pictures, we show how the newborn is posing on the bean bag(posing bag). Pay attention to how the left hand is positioned so that the baby does not roll back.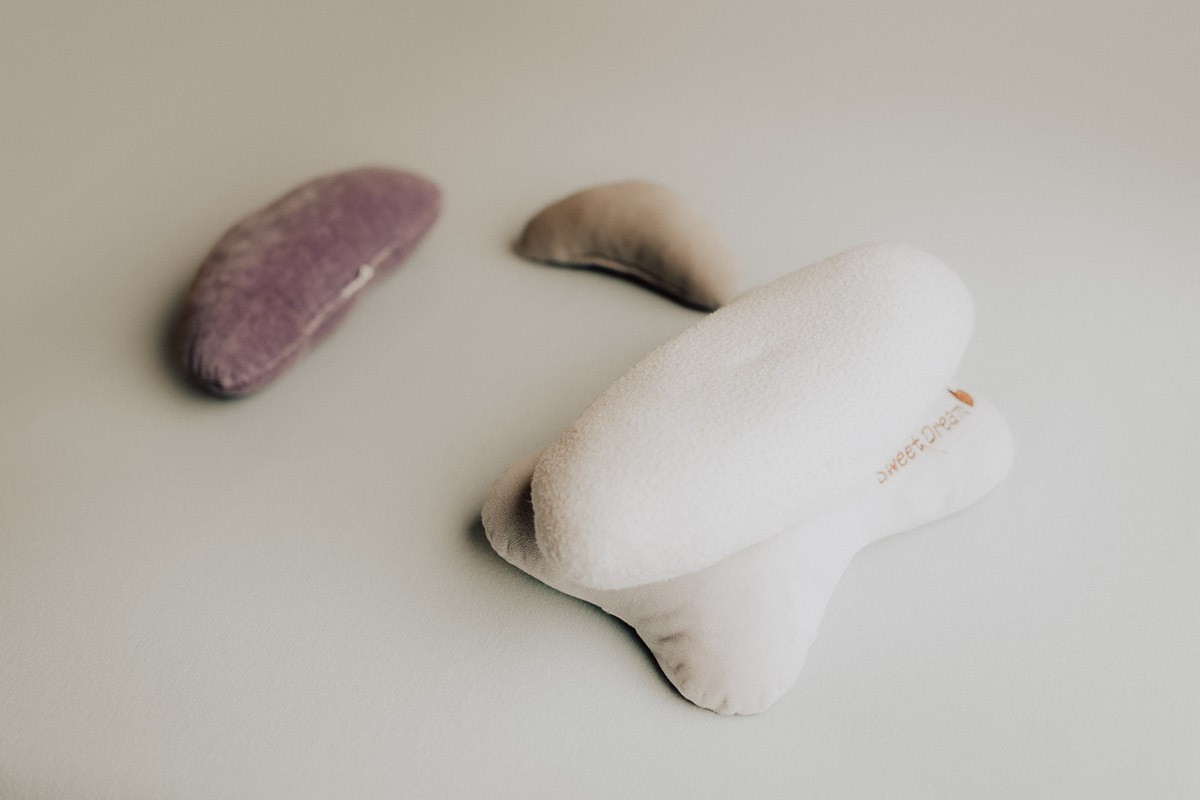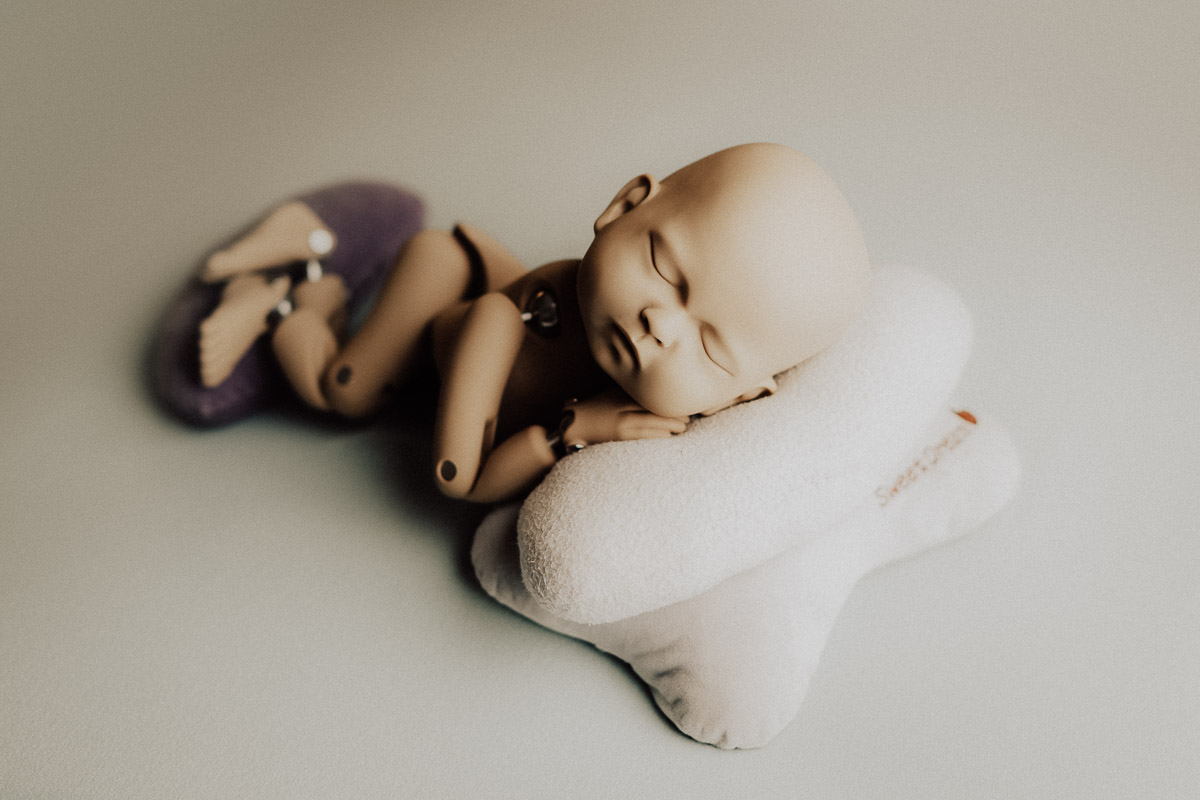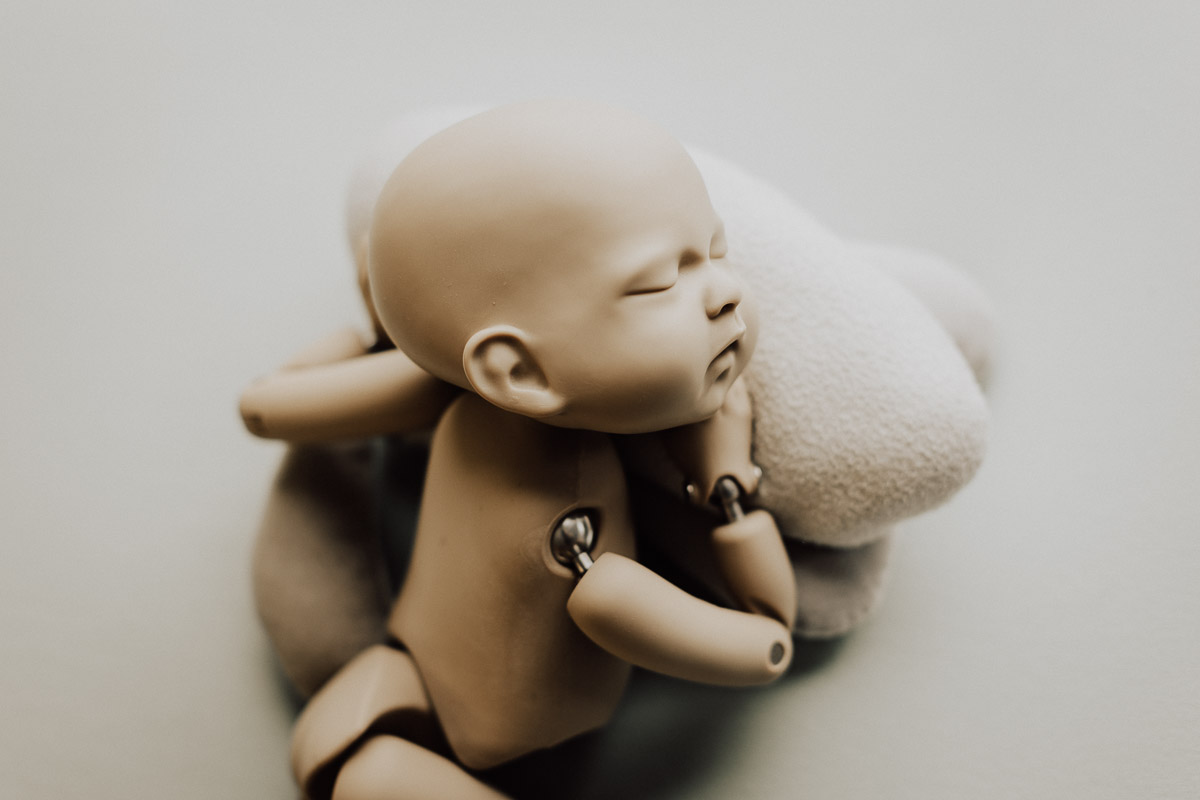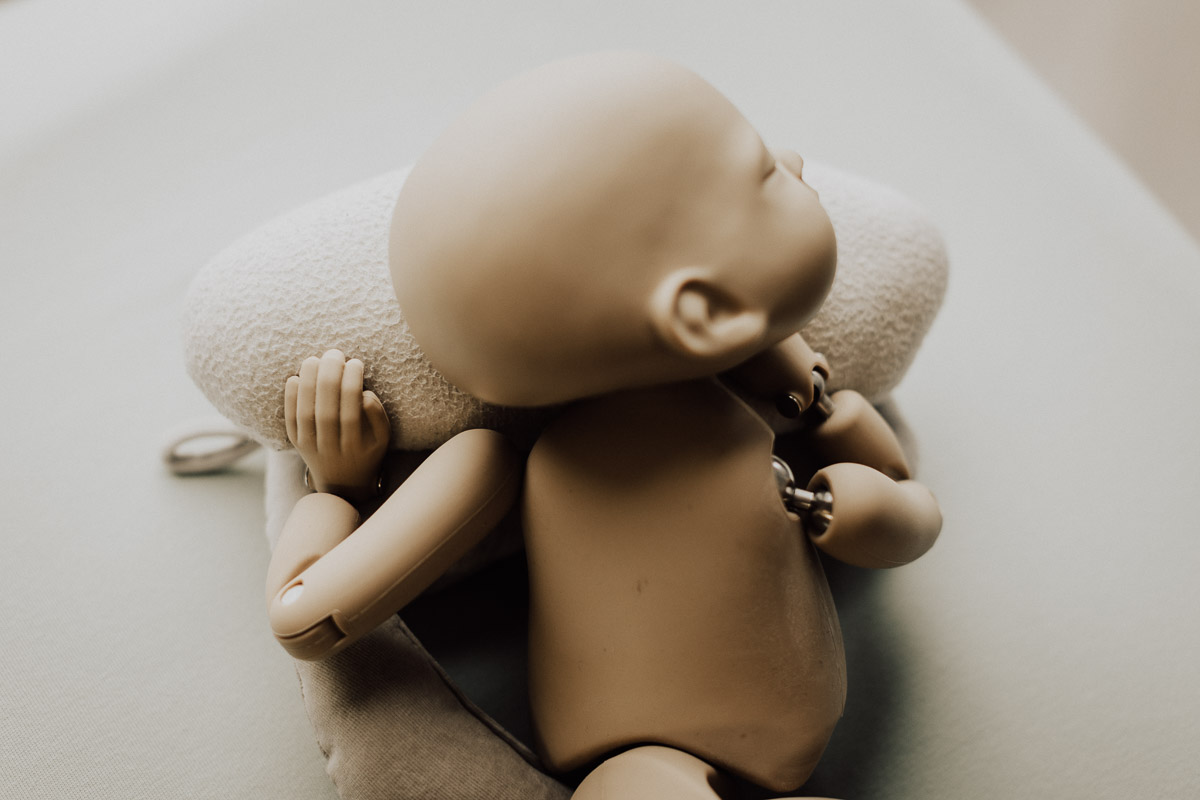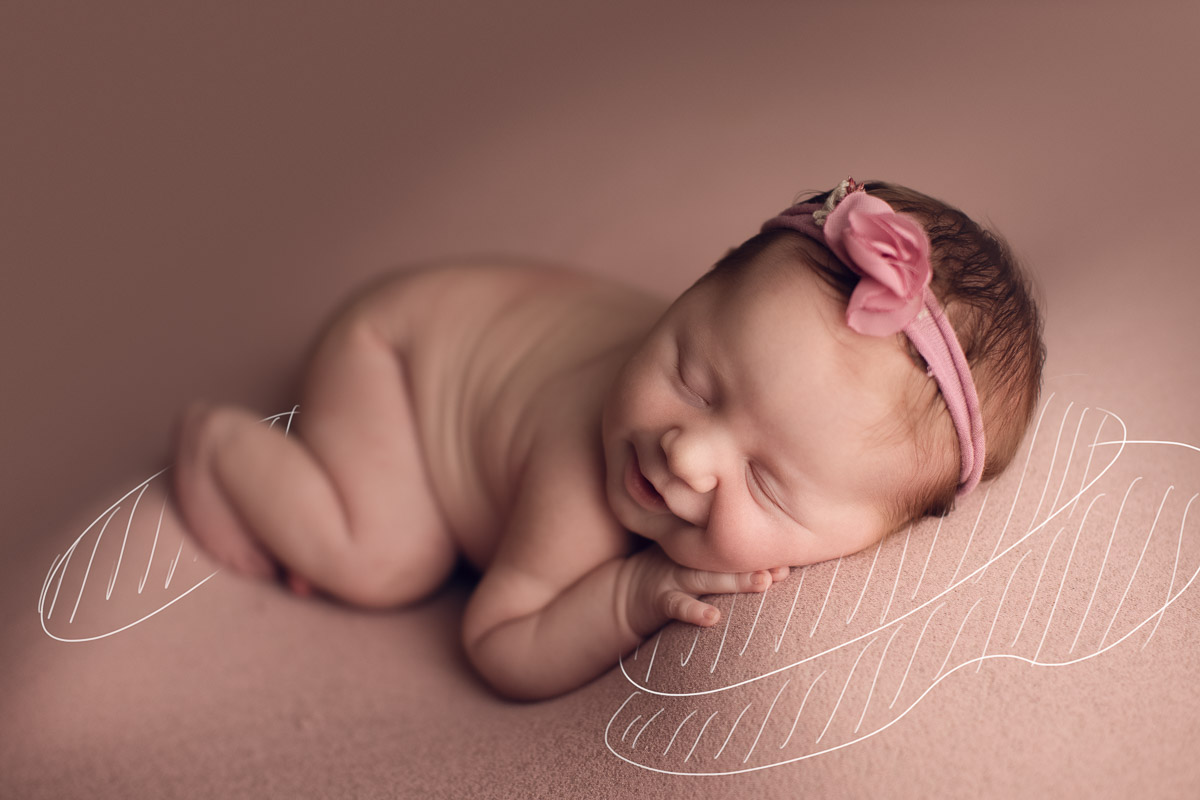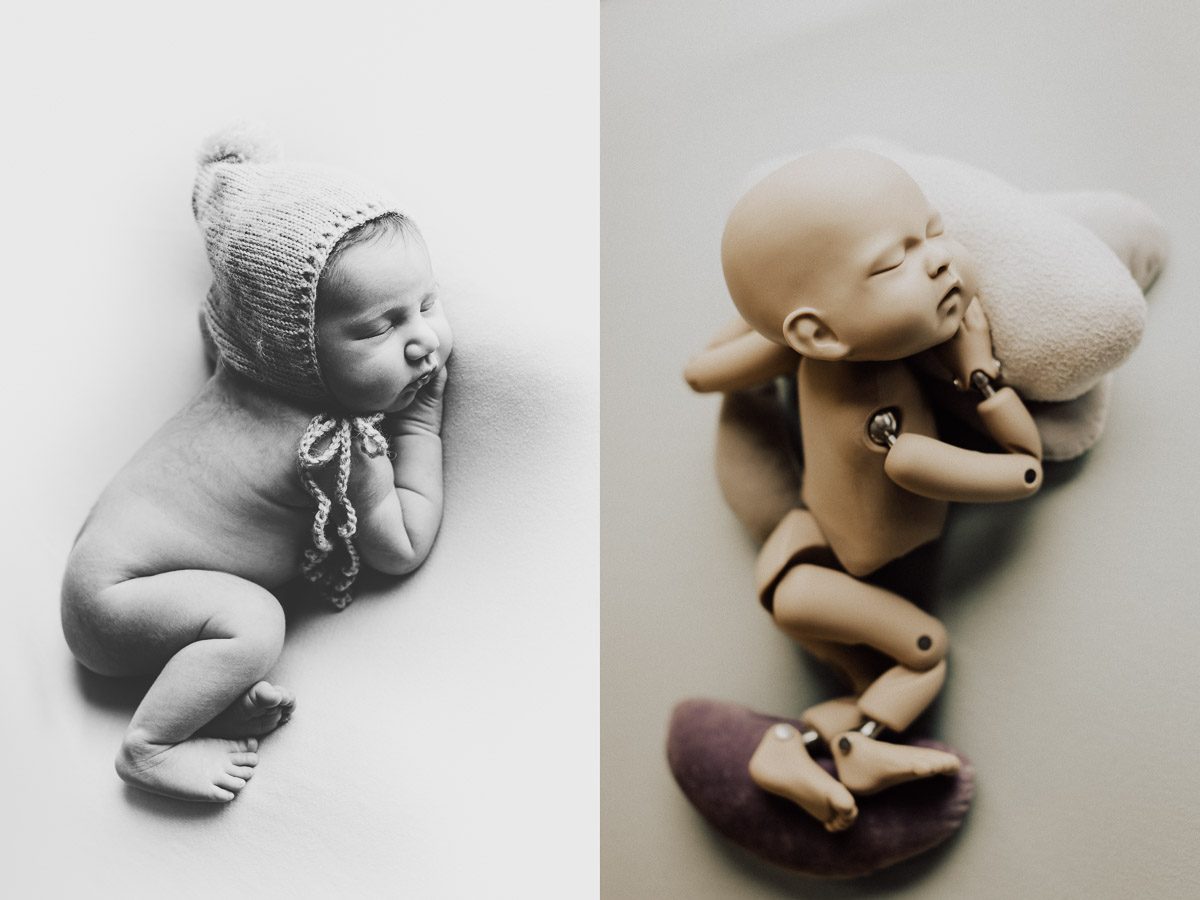 One tip: If you can always hire an assistant to stay with the baby all the time would be the best and the safest way to go..
Even if you protect the newborn with beans, safety layers and towels, the baby may still be upset in an unconscious movement or sneeze, which would create an unpredictable or dangerous situation. 
If you do not have an assistant, you can always ask the parents to watch and keep an eye on the baby. Mom and dad are very happy when they can help in this photography session and it is a unique experience for them.
8- And the last not the least, paying attention to lighting, framing and camera angle, which you can achieve the image you want with a lot of practice.
امروز در این بلاگ می خواهیم درباره نحوه صحیح و امن قراردادن و فرم دهی نوزاد و به تصویر کشیدن یک عکس زیبا صحبت کنیم.
عکاسی نوزاد یک هنر ترکیبی زیبا و در عین حال ‍پیچیده و حساس می باشد. به
به طوریکه شما می بایست تمامی تکنیک های نورپردازی کار با انواع لنز و دوربین و ترکیب بندی را بدانید و در عین حال با مهارت و ظرافت با نوزاد کمتر از ۲۰ روز کار کنیدد که نه تنها هیچ صدمه ای ببیند و اذیت شود و در عین حال کمترین فشار به کم و گردن و دست و پای نوزاد بیاید و در نهایت باعث بیدارشدنش از خواب نشود.
برای عکاسی از نوزاد می توان از انواع سبد تخت و پراپس استفادده کرد بیشتر تخصص عکاسان پیشرفته است. اما کار با نوزاد روی بین بگ هم بسیار راحتر است  و هم اینکه تصاویر زیبا و کلاسیکی را می توان خلق کرد.
۱- بین بگ : با توجه به شکل و سایز آتلیتون و یا اینکه قرار باشد خانه مشتری عکاسی کنید می توانید سایز مناسب بین بگ را انتخاب کنید. سایز رومیزی و یا بسیار بزرگ همراه با فریمهای خمیده. امروزه فروشگاه های لوازم عکاسی نوزاد از این نوع بین بگ ها در سایزها و شکل های مختلف تولید می کنند و به راحتی می توانید  شکل مناسب کار خودتان را پیدا کنید.
اما اگر حمل و نقل بین بگ بخصوص زمانیکه به خانه مشتری برای عکاسی می روید کمی سخت است نگران نباشید می توانید با کمی خلاقیت از مبلمان منزل مشتری و با قرار دادن چندین لایه پارچه سطح نرمی را برای فرم دادن نوزادان درست کنید .
۲- برای خلاصی از چین و چروک پارچه و صرفه جویی در زمان ادیت ضمن استفاده از پارچه های کشی حتما از فریم و گیره استفاده کنید.
۳- برای بدست آوردن یک سطح هموار و جلوگیری از ایجاد سایه های ناخواسته از زیر سطح از چندین لایه پارچه کشی روی بین بگتان استفاده کنید.
۴-  اگر قصد دارید تا به صورت عریان و بدون دایپر از نوزاد عکاسی کنید حتما  در لایه های بالایی از پارچه های ضد آب استفاده کنید تا در صورت تصادف از طرف نوزاد تمامی لایه های پارچه شما کثیف و خیس نشوند
۵- برای بدست آوردن بهترین فرم از سر و پای نوزاد شما به چندین لوبیای فرم دهی در سایزهای مختلف نیاز دارید. برای پوز امروز به حداقل ۴ عدد لوبیا نیاز داریم.
یک نکته جالب. من همیشه از یک لوبیا که با برنج پر شده استفاده می کنم که به راحتی تغییر شکل می دهد و می توان هر طوری که بخواهیم به شکل و اندازه سر نوزاد فرم بدهم.
اگر دستری به این لوبیا ها ندارید می توانید با لوله کردن حوله وسیله مناسب برای  این کار درست کنید. پیشنهاد می کنم که همیشه در کنارتون سازهای مختلفی از  حوله ساده داشته باشید. مطمنا برای رسیدن به یک فرم بی نقص همیشه به
آنها نیاز خواهید داشت
۶- برای پوز دادن دست و پای نوزاد حداقل دو لوبیا برای سر و یک عدد برای بالا آوردن پاها نیاز داریم. برای جلوگیری از غلط زدن هم بهتر است یک لوبیا کوچک در قسمت پشت قرار می دهیم. البته ممکن است با توجه به سایز و جثه نوزاد کمی سر را پایین تر ویا بالاتر قرار دهیم.
۷- حالا با کمک نوزاد تمرینی و تصویر نحوه پوز دادن نوزاد روی بین بگ را نشان می دهیم. به نحوه قرار گرفتن دست چپ توجه کنید که با عث می شود تا نوزاد به طرف پشت غلط نزند.
یک نکته اگر می توانید همیشه یک دستیار استخدام کنید که در تمامی زمان عکاسی کنار نوزاد بماند حتی اگر با کمک چندین لوبیا و حوله دست و پای نوزاد را حفاظت کنید باز هم ممکن است نوزاد در یک حرکت ناخودآگاه یا عطسه تعادلش بهم بخورد و موقعیت خطرناکی ایجاد شود. اگر هم دستیار ندارید می توانید از پدر یا مادر نوزاد بخواهید این کار را برای شما انجام دهند. خانواده ها بسیار هم خوشحال می شوند وقتی بتوانند در این سشن عکاسی کمک کنند و برایشان یک تجربه تکرار نشدنی است.
۸- و آخرین قسمت نحوه نورپردازی و کادر بندی و زاویه دوربین است که با تمرین زیاد می توانید به آن تصویری که می خواهید برسید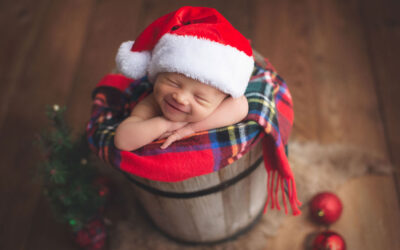 We are so excited to offer the Christmas mini session again this year as well. We got so many positive feedback last year and decided to open up some spots for Christmas 2023. We have limited time slots available so don't miss your chance and secure your spot...
© Jana newborn photography | Vancouver, BC
Award-winning professional photography studio. Specialized in maternity, baby, and newborn photography. Serving Vancouver, North Vancouver, Burnaby, Surrey, Coquitlam BC.