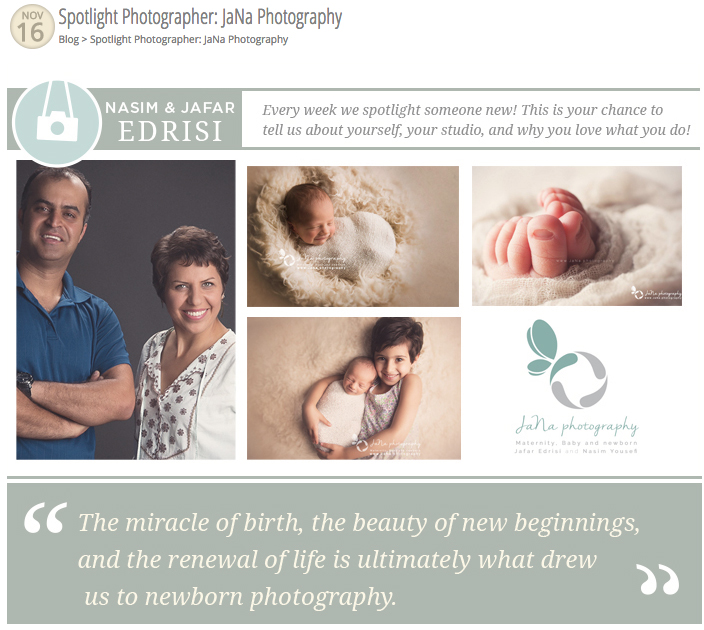 How did you get started in photography and when did you start your business?
Our names are Nasim Yousefi and Jafar Edrisi, and we are the photographers behind JaNa Photography. In addition to being maternity, baby, and newborn photographers, we are also world travelers and storytellers. In 2007, we spent 2 years traveling around the world to help promote environmental conservation and peace, sharing experiences from our travels with people along the way.
We uncovered the beauty of humanity as we cycled through 15 countries throughout Asia, Europe and North America. Despite discovering incredibly diverse places and cultures, we were particularly moved by the commonalities we all share: a desire for peace, love, and joy. We realized the potential that we had, with the help of our cameras, to capture both our sameness and our difference, and to convey and celebrate a common humanity.
Our passion for working with children developed throughout the 8 years we shared of computer programming and producing multimedia software for kids. This helped us to open our hearts and to open our eyes to a different perspective on life. Our love for working with children and our interest in capturing and retelling stories ultimately directed us to a profession where we could unify both of those passions. We started the newborn and maternity photography business about 4 years ago back in Iran.
Where are you located? Do you have a studio space or do you shoot on-location?
Our fully equipped studio is located in Vancouver, Canada. We also offer an on-location option for families who prefer to have their photo sessions at home. For this particular service, we carry all the necessary equipment for a photo shoot, from studio lighting to backdrops and other props.
What do you shoot with and what are your favorite lenses?
We both shoot with a Canon 5D Mark III as our primary, and Canon 5D Mark II as our backup camera.
For newborn photography, our favourite lenses to capture detail are the Canon Macro compact F2.5 and Canon 24-105 F4. We always use these with baby, maternity, newborn, and family photography sessions, because it gives us a proper range, from wide to tele.
What drew you to newborn photography? Do you photograph anything else?
The miracle of birth, the beauty of new beginnings, and the renewal of life is ultimately what drew us to newborn photography. It's fulfilling work because it provides a unique opportunity for us to express peace and love through our art.
There are some moments in life that are best captured in a photograph. Nasim and I have been married for almost 10 years. We don't have kids ourselves, but I remember the first time we shot a newborn photo session. We were able to see and feel the immeasurable joy and happiness each new parent was experiencing. Knowing how important this stage in life is to each client really motivates us to take better pictures, so that we can help capture and preserve the moment for them and their families. We love our job and are so grateful to play a role in celebrating these exciting times and sharing in the joy with each family.
Every session brings a lot of peace, joy and hope to our lives. We love when a 5 day old baby gives us a lovely smiley face. It's just incredible.
Our focus is primarily on newborns, but we enjoy and have experience capturing all aspects of the journey through maternity, child, and family photography.
How would you describe your style? Where do you find inspiration?
We are both trained as academic studio lighting photographers. This particular background gave us a unique ability to play with light and experiment with different angles and types to create or change the overall mood or impression of the photo.
We always admire the work of other photographers, but are particularly inspired by Kelly Brown in Australia, who is one of the best photography instructors we have ever had. Her style is artistic and natural, with stunning composition. We love her work and the way she teaches is really amazing.
Have you taken any photography workshops/training?
We are both certified photographers, with diplomas in portrait, commercial advertising, and fashion photography styles. We have taken dozens of workshops relating to newborn photography, baby photography, business, and marketing.
I, Jafar, have also given instruction on lighting and have taught editing workshops, using both Lightroom and Photoshop applications. Back in Iran, I used to be the photography instructor at several art institutes and photography schools.
We both love to learn and to stay current with new techniques, styles, and equipment. Continuously participating in workshops has always been a great way for us to expand our networks, stay engaged in the profession, and return with new ideas to keep us inspired and innovative.
Where do you like to shop for props? Do you have favorite vendors?
We use a lot of unique fabrics, which we usually find at Dress Sew in Downtown Vancouver. For props, like blankets and some of our headbands, we order online from http://adrianapdesign.bigcartel.com/ Other times, we create our own, making hair bows, knitting hats, and sewing pants.
We're always browsing in markets and shops–so far, Fort Langley in Greater Vancouver, is our favorite location–to find nice buckets and baskets or other props we find inspiring. We love browsing in local antique stores–we really don't enjoy shopping online!
What are three things you wish someone would have told you when starting out?
One piece of advice that we wish we were given is to pay more attention to and think more critically about the name for our business. When we first started, we didn't think about branding long-term or our ability to resonate with an international audience. Because we learned this along the way, some of our success was delayed. We're very happy with the name of our business now—JaNa–because it is a common first name around the world, it's clear and simple, and it represents our collaboration, "Ja" for Jafar and "Na" for Nasim.
The other thing that we struggled with a lot at the beginning specifically related to newborn photography: figuring out the best timing for the baby. Initially, we photographed babies between 10-30 days old, but were finding it difficult to capture the peacefulness that our current photos convey, which are taken within the first couple days of life. Because we didn't have experts to learn from in Iran, we instead had to learn through self-instruction, watching YouTube videos and translating web articles into Farsi. It was quite a steep learning curve at the beginning.
Other than those two initial challenges, we are thrilled with how our business has been developing. We have enjoyed learning together and watching our business grow. At this point, we're able to seek advice on particular challenges from fellow photographers within the community, which has been a valuable resource for us.
Follow your heart, and enjoy every single second with these pure innocent souls; they are perfect. and work very hard. I'm confident success will come if you're all in
What are your favorite things about NBP.com? How long have you been a member?
NewbornPhotography.com is a great place to see other photographers' work, get inspiration, and seek advice. For Nasim and me it is a wonderful resource and very supportive community.
 Please share with us your Top 5 Favorite Images. Why are they your favorites?
We just love the posing, lighting and the impression of the babies, siblings and people in these pictures. Particularly the one grand parents holding the newborn on hands. You can see the amazing journey of life from the first days to the elderly.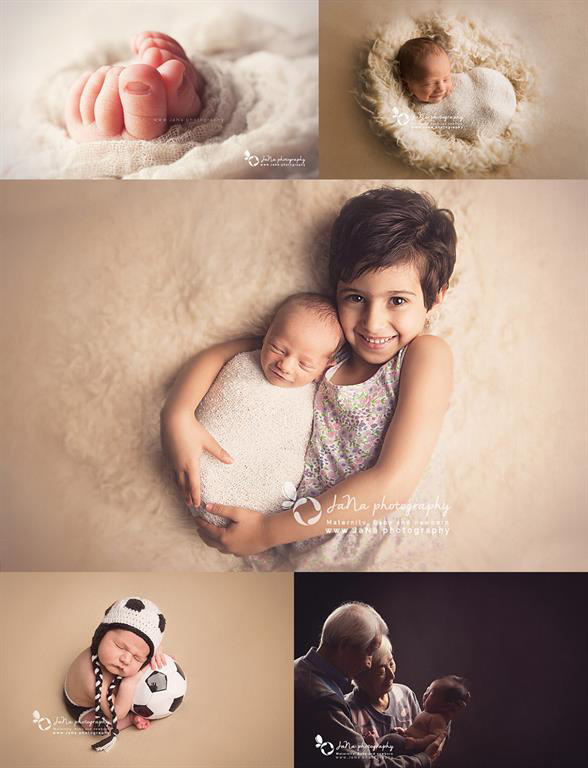 Lastly, tell us about YOU! Who are you other than a photographer?
We are just a simple couple, enjoying the miracle of life: exploring in nature; making friends; discovering new parts of the world. We love adventures and spend most of our time learning about and trying new outdoor activities. We get a lot of inspiration from the natural world.
We are planning to travel around the world once again and hope to plant peace trees in every country. We love to experience the beauty of our differences and the things we have in common. We have learned that we are similar, no matter where we are from; we all love our mom, dad, family, and friends–love is all around us and we bring it to the universe as we born. From the time in our mom's belly, stepping out to the world and living in this incredible planet. It's all an amazing adventure.
read the whole story in this link: http://www.newbornphotography.com/blog/spotlight-photographer-jana-photography