NEWBORN + BABY WORKSHOP
EXCLUSIVE INVITATION TO LEARN FROM MULTI AWARD-WINNING NEWBORN & BABY PHOTOGRAPHER & 2016 VICTORIAN FAMILY PHOTOGRAPHER OF THE YEAR – KATH V.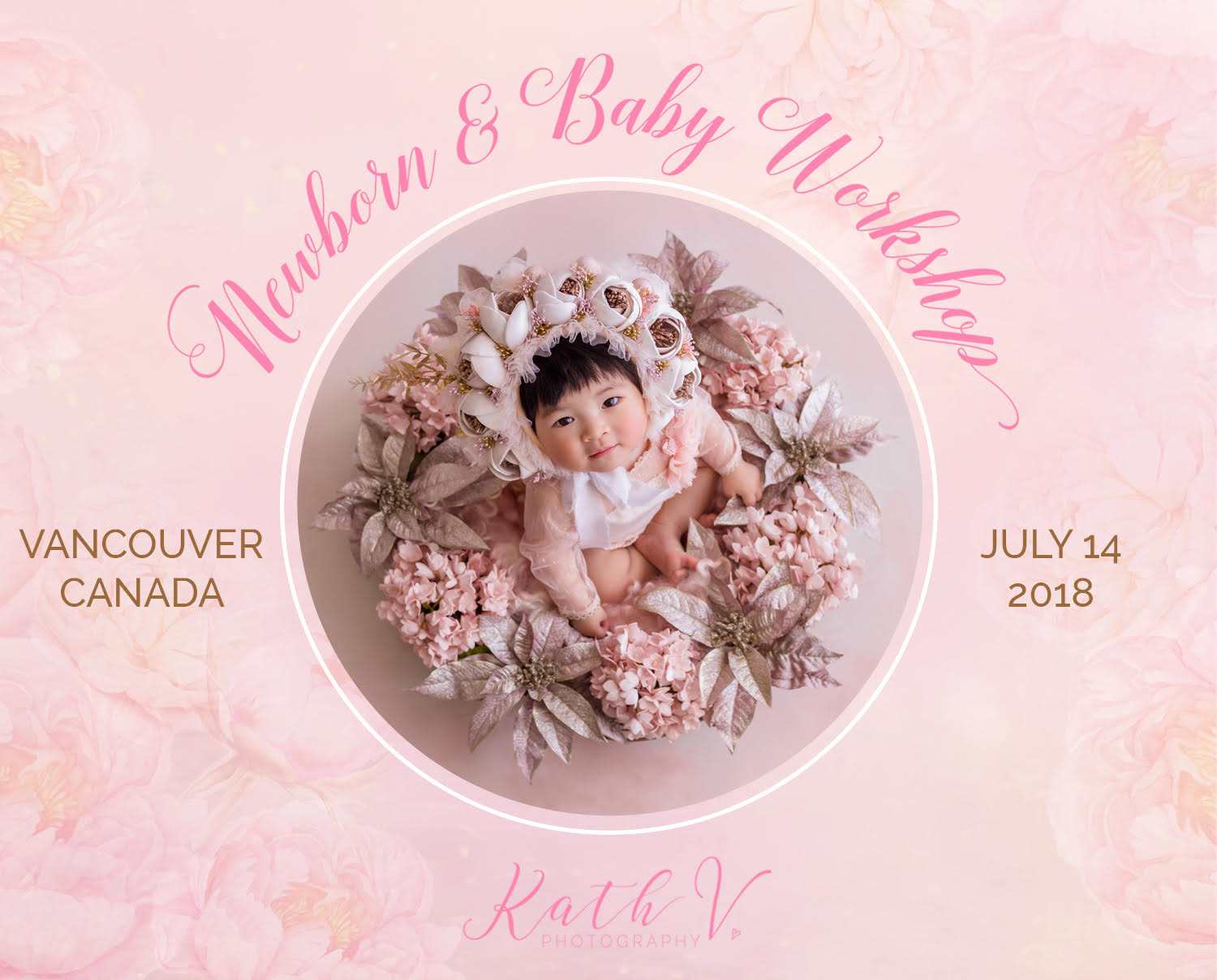 BEHIND THE CAMERA
Kathleen Vergara (Kath V.) is the vision behind Kath V. Photography and regarded as one of Melbourne's most talented and progressive newborn and baby photographers. Kath's natural ability is complemented by an imaginative styling and design sense, which explores a fanciful and enchanting genre.
Over the past five years, Kath has continued to refine her distinct technique and draws inspiration from every baby starlet that graces the studio. Kath's relentless strive for perfection is consistently reflected in her ability to capture the perfect moment in a classical yet contemporary portraiture.
Kath is a highly sought after International Speaker and Teacher having taught and presented in 5 Continents, 15 countries and counting. Her proudest moment was presenting in front of 500 Brazilian photographers in August 2017 in Sao Paulo Brazil.
Behind the scenes, Kath runs a profitable and growing business, which she rates equally important as the quality of her work. Her astute business knowledge, marketing and sales techniques have seen Kath V. Photography as one of the World's most successful newborn and baby photographers.
NEWBORN + BABY WORKSHOP INVITATION
A day through the lens of Kath V. will explore the essence of creating breathtaking and eternal newborn and baby portraits in an elegant and whimsical showcase as well as building a successful and thriving photography business.
The full-day session is designed to be interactive, enticing your individual style to shine. Each workshop is catered to 8 attendees to ensure ample time for individual mentoring, learning and special interest themes.
Kath's passion for newborn and baby photography is infectious, her work is brilliant and this opportunity presents a priceless investment in your career. Whether you are an experienced professional or intermediate level the industry, this workshop will provide a wealth of knowledge, proven business strategies and a mentor in Kath who loves seeing her protégées succeed.
DETAILS
Tuition Fee:
Workshop Tuition Fee is only USD 995 (approximately $1265 Canadian Dollars)
Payable in 3 installments as follows :
USD $395                 –      NON REFUNDABLE retainer due at the time of booking to secure your spot.
USD $300                 –      installment due 28th of February 2018
USD $300                –      installment due 31stof  May 2018
Who:
Open to intermediate or advanced skill level in photography looking to add flair, colour and whimsy to their newborn and baby photography.
Duration:
The workshop will run over a single day, 8:30am – 6pm,  lunch, snacks and refreshments provided.
Locations and Dates:
Toronto, Ontario (300 Campbell Ave. Unit 214 Toronto, Ontario, M6P 3V6)                  –                           July 07, 2018
Edmonton, Alberta ( 17304 103 Ave Edmonton)                                                                 –                           July 12, 2018
Vancouver, BC  (Jana photography studio)                                                                           –                           July 14, 2018
Maximum Attendees:
The workshop is limited to 8 attendees. In circumstances where under 5 spots sell, Kath V. Photography has the right to cancel workshop and will refund any payments made. Please DO NOT book flights and accommodation until you receive confirmation of the workshop from Kath V. Photography.
Specs:
Attendees will supply their own camera & lens (recommended 35mm or 50mm and 100mm macro lens) and have basic knowledge of Lightroom (or Camera Raw) and Photoshop. Attendees must also have a good understanding (and is confident) in using camera in manual mode.
Light Source:  
Natural Window Light
Languages:
Workshop will be taught in English.
Attendees will receive:
Discount Vouchers from Kath's Favourite Vendors
50% off Kath's Sitters Teaching Videos (and any future teaching videos produced by Kath V.)
be part of the exclusive Kath V. Photography's Workshop group for ongoing learning and support.
KEY TOPICS
THE ART OF PHOTOGRAPHING NEWBORNS (KATH V. STYLE)
Kath will demonstrate how to create dreamy set ups as well as how to safely pose newborns in a relaxed , comfortable and in a flattering position.
Other topics that will be discussed:
Newborn and Baby Safety – very important.
Lighting using natural window light.
Working with Colours.
Composition and Angles – how to capture different angles from one set up to maximise gallery.
Set Up and Styling.
The clever use of props and how to mix and match props to maximise its potential and beauty.
Managing parental expectations.
Settling techniques.
2 Signature Kath V. Set Ups will be covered (but not limited) to either of the following 2:
Nest Set Up
Fantasy Backdrop Bed Set Up
Whimsical Clouds Set Up
Floral Basket Set Up
Box or Bowl Set Up
There will be 2 newborn models on the day.
*** Please note – Beanbag poses will NOT be covered.
THE ART OF PHOTOGRAPHING SITTERS (KATH V. STYLE)
Kath V. will demonstrate how to interact, connect & pose babies in a fun and engaging way. Along with basic baby poses (that sells and parents love),  Kath will also demonstrate the fine art of capturing her signature bonnet portrait in a subtle yet captivating style that embellishes baby's features as the hero of the photo.
3 Signature Kath V. Baby Set Ups will be covered (but not limited) to either of the following 3:
Baby on a Flokati.
Baby on a Bucket, Bowl, Bath Tub or Box.
Simply Baby.
One Outfit 20 plus Images (attendees will observe and photograph at the end).
Fantasy Backdrop and Set Up.
Close Up Money Shot.
There will be 3 sitter models on the day.
*** Please note – Swing Set up and composite will NOT be covered.
EDITING
Now it's time to switch focus and watch your creations come to life. Kath will demonstrate her unique editing techniques that perfect images into sophisticated finished products using Lightroom and Photoshop. Kath will show you how to develop your own Lightroom preset to speed up your editing workflow. Kath will edit 1 newborn image and 1 sitter image from Raw file to fine art portraiture.
BUSINESS AND MARKETING
The remainder of the afternoon will take attention off the spotlight and into the nitty gritty of running a successful photography business. It is one thing to take great images and another to create a thriving business; an area that Kath sees many talented photographers fall short. Kath will outline the key marketing, sales and business strategies that she has used to grow the business year after year. Most crucial to Kath success is her ability to sell a session and secure repeat and referral business. Pricing and products will also be covered.