As your newborn baby photographers safety is always one of our top priorities. We understand the responsibility and care that needs to be considered during a newborn baby photography session for both the mom and baby. We make sure that parents are well educated on how we work, by sending our newborn photographer videos before the session. We are with you every step of the way and will be in close proximity during your session.
In this blog post we would like share some of our thoughts regarding safety and a couple of behind the scene images of past client photo shoots.
We make sure that everything we use is clean. We sterilize all props and take extra care washing and sanitizing our hands before each and every photo session. We also use only baby friendly materials, and always make sure to pose the babies in the safest and most secure way possible. If we find that babies are uncomfortable or upset in a certain pose, we change it.
Each newborn baby is different, we understand this and we are not going to use a particular pose if he or she shows signs of discomfort. We take extra care to ensure that they are comfortable and we always take time to explain to the parents who request certain legs-out positions. As newborn baby photographers it's our responsibility to inform parents, if at any stage the baby becomes uncomfortable we will move on to the other poses
Some of the examples of newborn photography legs-out positions are:
Taco position, Froggy position, Chin position, Butterfly position, cocoon position and so on.
The sample pictures are showing how we have the assistant hand to secure baby head and put the rest of the work to Photoshop out the safety hands.
We never leave baby by her/himself while posing on any sort of posing platform such as beanbag, basket or boxes.
During the whole session Nasim or Jafar are the people who support baby head or back. We don't even ask parents to help us secure the baby.
Particularly it's a challenge for a C-Section mom who is already having hard time going thought this transition. We would like mom and dad to relax and enjoy watching their baby being photographed.
We never pose baby on glassy, falling or fragile props
We both are certified first aider and emergency attendant. Jafar particularly as the main photographer is a certified Emergency Child Care First Aider from Canadian Red Cross organization and Nasim is an Emergency Rescuer and First Aider from St. John Ambulance Association

We always make sure to work in the safest conditions either on location or in our studio to prevent any potential hazard during the session. From newborn to maternity and baby photography session you will be on a good hand working with us as your family photographers.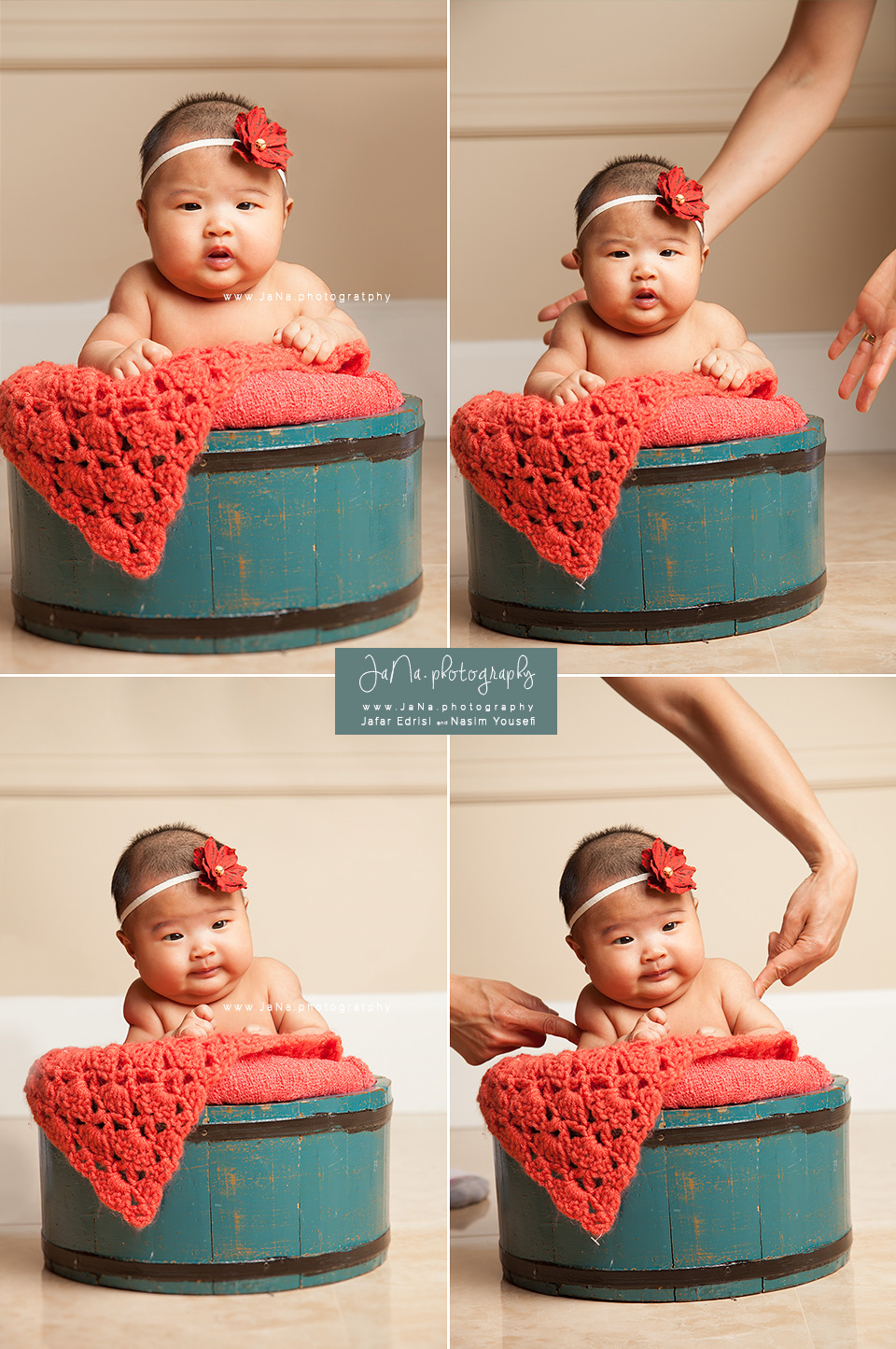 Are you looking for a Children, Maternity and Newborn photographer ? Contact Nasim Yousefi & Jafar Edrisi in JaNa.Photography to find out about their maternity, baby, family & newborn photography services. No matter where you are located. Anywhere in Lower Mainland, Vancouver. BC, Surrey,Burnaby, North and West Vancouver.
JaNa photography team comes to your home or your favourite outdoor location. Based in Vancouver BC, JaNa Photography serves Greater Vancouver and Lower mainland areas: North Vancouver BC, West Vancouver BC, Vancouver BC, Burnaby BC, Coquitlam BC, Port Coquitlam BC, Port Moody BC, New Westminster BC, Pitt Meadows BC, Maple Ridge BC, Langely BC, Surrey BC, White Rock BC, Delta BC, Richmond BC.